January 30, 2012 – On Why Getting a Professional Watch Repair Estimate is Worth it…
Customers ask me for the cost of repairs on their Tag Heuer, Omega, Breitling, Rolex, and other luxury watches by email and over the phone all the time. But "seeing is believing," or so goes the proverb. That's a very important element in getting a professional watch repair estimate. How so? Well, every watch is different (of course) and every repair issue is different. Just as with your car, you need the mechanic to "take a look," so it is with your luxury watch whether it's a Rolex, a Breitling, a Hamilton or any of the other fine watches. My shop is located in Midtown Manhattan, so for many people it's easy to drop by and let me take a look at the watch for a free estimate. Some people will mail me their watches, and I can estimate it in that way.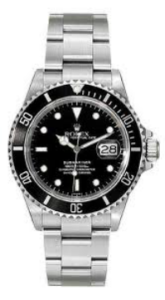 Here are some examples that can be frustrating to both the customer and to me. A customer will say I have a Omega watch with a ETA 2892 movement bought a couple of years ago, so, Ron, how much do you charge for the service of this simple watch? But I can't give an exact price. The reason I can't give an exact price is that I don't know what else is wrong with the watch. The dial feet could be broken, or the hands may be corroded, and they need to be replaced. There is no way to tell that by a picture or without opening the watch. Another example is the balance wheel could be broken. This part can get expensive to replace. The movement could be rusted out from water getting into the watch. There are so many reasons that I have to see the watch. This is why I tell customers I have to see the watch.
Seeing is believing. I mean that in two ways. First, people are really impressed when they come to my shop and see my in person. I run a tight shop, and have many, many years experience as a master watchmaker. People read my reviews on Yelp, or Google Places, or talk to friends or other people who love high-end watches. People know me, and they recommend me. Second, I need to see your watch to be able to repair it. There are just so many issues, and as a watch repair professional in New York, I want to do my job as an expert and recommend EVERYTHING necessary to keep your watch in tip-top condition.
Resealing Your Luxury Watch – Tag Heuer, Breitling, Rolex, or Other – the Why and the How

Another question I often get asked is why do I need my Tag Heuer watch resealed, and why is it so expensive to do that? Here's the reason: water. If you have an expensive Omega Seamaster or Tag Heuer Aquaracer chronograph, and it isn't sealed correctly (replacing all the gaskets) then it may leak water next time you swim with it. That will be very expensive to repair. Not resealing your watch is being penny wise, and pound foolish. There is no way to tell if a watch is water resistant after it is opened unless it tested properly. Better to be safe then sorry later!
Professional Watch Repair – from a Master Watchmaker, Why?

Omega Co-Axials, Tag Heuer Monaco's, Brietlings, Rolexes ex. all need special tools, equipment and training to repair them correctly. These are expensive, high quality machines – not unlike fine BMW or Bentley automobiles. You wouldn't take your BMW or your Bentley into just any repair person on the street, and you wouldn't fret about every recommendation, would you? You'd trust that professional mechanic to repair your car. The same goes for you watch. Take it to a trained professional to get it repair correctly and avoid costly repairs by having it done correctly the first time.
Seeing my shop, getting to know me personally, and realizing how important my background and training are to me as a professional watch repairman means believing. I have many loyal customers, and loyal reviews – people who trust their fine watches to a master watchmaker, right here in Midtown Manhattan, new York City. – Ron Gordon
About Ron Gordon Watch Repair

Ron Gordon Watch Repair is located at 280 Madison Ave, Ste. 510, New York, NY 10016. We provide watch repair services throughout New York City, Manhattan, Midtown Manhattan, Downtown and the boroughs of New York, NY. Read our Google Places, Insider Pages, and City Search Reviews, online.