December 22, 2012, As a New Yorker and a lover of fine, luxury watches, I often turn my gaze upwards as I walk around Manhattan. New York is a center of fashion, with many people wearing luxury watches of the fine brands like Hamilton, Rolex, Tag Heuer and others that I love (and repair), but often even more inspiring are the city's many famous clocks. Many of these are examples of the fine craftsmanship that is in many a luxury watch, and here are some of my favorite clocks around New York City.

Decorative street clocks were often placed on sidewalks to attract business, especially jewelry stores. On this page we'll take a look at some of the ornamental clocks that grace the sidewalks of New York City. Many of these clocks still work!

The beautiful gold street clock in front of the Fifth Avenue Building at Madison Square is in the midst of NYC's toy district. It's been there since 1909 and replaced an earlier clock that had accompanied the Fifth Avenue Hotel, razed in 1908.
The nine foot-tall, two-ton elgin bronze clock was created for the Chicago World's Fair in 1893 and was the centerpiece of the original Waldorf Hotel, which once stood where the Empire State Building is. When the hotel moved to its current location in 1931, the dramatic clock was relocated as well. The clock's Westminister chimes sound every 15 minutes.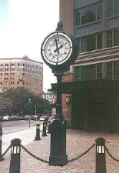 A relatively new addition to the genre is the Tribeca Grand hotel clock (installed in 2000), at 6th Avenue and Church and White Streets.

At 146 Duane Street in Tribeca is one of NYC's most notable building clocks — look at the intricate metalwork on the bracket. It is a remnant of wholesale shoe company Nathaniel Fisher & Co. When a fire struck the headquarters in 1895, the NY Times reported that it had already been in business for 50 years. The clock may be nearly 150 years old. Each side has a different clock face, likely a modern development.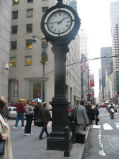 5th Avenue just below 44th Street. Jim Naureckas of NY Songlines: The sidewalk clock here– once a common sight in New York–was built in 1907 by Seth Thomas, a clock company founded in 1813.

Madison Avenue and East 53rd, outside 520 Madison. This is the last clock on our virtual tour.
Ron Gordon Watch Repair and Midtown Manhattan

Of all the places to locate a watch repair business, no location is as special as Midtown in New York City. My watch repair shop is just minutes from Grand Central Station, where the buzz of commuters occurs daily as commuters into New York City come from the suburbs of Westchester County, Connecticut and beyond. No tour of New York City would be complete without a stop at Grand Central Station, which is not just a monument to travel but to time. Stop for a moment and marvel at the terminal and count the number of clocks you can see at work. Then take a moment, if you can, and try to catch a glimpse of the luxury watches worn by the busy travelers. You'll see Rolex watches, Tag Heuer watches, Hamilton watches, Tissot and more.
I hope you enjoyed this virtual tour of clocks in New York City. ~ Ron Gordon
About Ron Gordon Watch Repair

Ron Gordon Watch Repair is located at 280 Madison Ave, Ste. 510, New York, NY 10016. We provide watch repair services throughout New York City, Manhattan, Midtown Manhattan, Downtown and the boroughs of New York, NY. Read our Google Places, Insider Pages, and City Search Reviews, online.