Omega watches have one of the most devoted fan bases of any luxury watch. And, I'm one of them. Nothing sets my eyes a sparkle like an Omega watch. Indeed, I recently became "Omega Certified" and remain one of the top places in New York City to get your Omega watch repaired. As part of the Omega certification process, I had to meet Omega standards, which means being able to troubleshoot, oil the watch correctly to meet Omega standards, and adjust the watch to meet Omega standards among other standards. In addition, the casing of the watch had to be done correctly.  It was a very grueling test, and I'm proud to be "Omega Certified."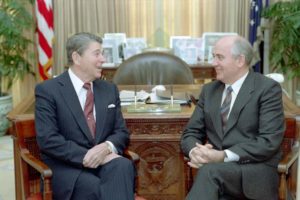 I can't share the details of the test, of course, but I can share some facts about Omega watches, and why I – like so many of my customers – am keenly passionate about this storied watch brand.
No. 1. Bond, James Bond. James Bond has worn many watches over the years, but no brand is as associated with James Bond as is the Omega. If you're into the James Bond films and into amazing watches, check out Omega's page on James Bond, here.
No. 2 Space, The Final Frontier. During the 1960s, legend has it that the Houston-based astronauts of the Gemini program began looking for an ideal watch for Outer Space. They found it, and a tight relationship began between Omega and the US Space Program. If you'd like to fantasize about going to the moon, and wearing a super cool watch at the same time, click here to learn more about Omega watches and outer space.
No 3 Gorbachev. Mikhail Gorbachev, the Soviet leader who brought us Perestroika and pretty much helped transition the Soviet Union out of Communism was a fan of Omega. Gorbachev wore a gold Constellation Manhattan Omega. In an irony of history, Pope John Paul II wore an Omega De Ville "Classic." (Pope John Paul II was an fervent anti-communist, of course). Besides Gorbachev and Pope John Paul II, many other celebrities have favored Omega watches, including John F. Kennedy.
No 4 Magnetism or Rather Anti-Magnetism. To this day, magnetism can be the enemy of accurate time-keeping, and Omega came up with an innovative way to increase resistance to magnetism. Their answer? Building a watch out of non-ferrous (non-Iron materials). You can learn more about this technology, by checking out Omega's Seamaster Aqua Terra.
No 5 The Olympics. All of the major watch makers strive to be featured as THE Olympic timekeeper, and this has rotated around a bit. However, Omega has been a leader in time-keeping for the Olympic games, and for a long time, too. This started with the 1932 Los Angeles Olympics. This is yet another reminder that Omega is a watch brand that has been around a long, long time and been known as a leader in style and technology
Omega Repairs in New York City
Now, back to another passion of mine: New York City. From our midtown watch repair location, we're lucky to be at what many New Yorkers call (humbly) the "center of the Universe." Well, maybe not, but it's certainly a center of style and luxury. Many New Yorkers find us at Ron Gordon Watch Repair when looking for a certified Omega watch repair and service center. But it's about more than just knowing how to fix the watch; it's about having a passion for advanced luxury watches, and Omega's passion fits mine.