TAG Heuer is one of our favorite watch brands here at Ron Gordon Watch Repair. Why? Because the watches are beautiful, works of art really. Why? Because the performance is second-to-none. Why? Because they have a long, storied history. Why? Because they partner with cool brands and companies. Why? Because TAGS are just plain cool. If you're a TAG lover (as we are), we hope you're aware of their new partnership with the Grand Prix de Monaco Historique, thus becoming its official timekeeper and sponsor of both the Monaco Grand Prix and the Monaco Top Cars Collection museum. The Monaco event, scheduled for this month but canceled due to the coronavirus pandemic, has long been viewed as one of the premier Formula 1 racing events. To commemorate the moment and to channel its historical prestige, TAG Heuer is unveiling the new Monaco Grand Prix de Monaco Historique Limited Edition, a special version of its famous Monaco watch. This new model is the first Monaco to be released by TAG Heuer since 2019, when the brand unveiled five new timepieces over the course of the year, celebrating the 50th anniversary of its unique design.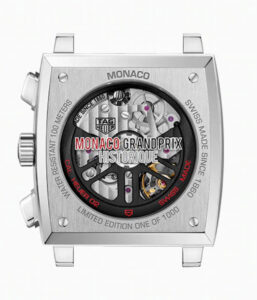 The new Monaco Grand Prix de Monaco Historique will be limited to 1,000 editions, priced at CHF 6,700 (or about $6,800), and will be available starting in August 2020. You can read the official announcement, here, and sign up there for an alert when it's actually available.
MORE ON GRAND PRIX DE MONACO
Here's more information on this incredible, stylish watch. The limited-edition watch bears all the familiar hallmarks of the classic Monaco style, though it's differentiated from others foremost by its red-and-white colorway, with its various commemorative accents, a contrast to the classical model's all-blue dial. The watch has the 39-mm square case common to the Monaco, with right-side-integrated pushers and crown; historical caliber 11 models often use a left-mounted crown instead.
Underneath the fitted square sapphire crystal, we find a red-accented Monaco dial with an outer red square background surrounding an inner silvered white circle. On the outer edges of the face we find applied hour markers accented with applied red dots and broken up by a subtle black printed minute ring, as well as the outline of small, vintage formula 1 car on its top right. Closer to the center of the dial are two sunken red subdials for the 12-hour and 30-minute chronograph counters, while a non-sunken, subtle register appears just above a 6 o'clock date window to count the running seconds. The modern TAG Heuer logo and a simple "Monaco" script occupy the top of the dial, while sweeping over the face are two elongated, lume-filled sword hands and a red lance-shaped pointer for the chronograph seconds.
Inside the new commemorative model is the Caliber Heuer 02, a reliable automatic mechanism produced in-house by the brand and one that supplies power to many of its modern three-register chronographs. The movement is capable of an 80-hour power reserve and features a black skeletonized rotor with red engraved accents. The caliber is visible via a sapphire caseback with "Monaco Grand Prix Historique" overlaying it in red, black, and gray print, while other watch details are engraved around the circular window, including its edition number.
TAG HEUER REPAIR IN NEW YORK NY
Of course this isn't the only TAG out there. Just one of the newest. Many of our clients come in with an older but still very stylish TAG HEUER and want a repair or tune up. The reality is that ALL TAG HEUER watches are incredible. But what you don't want is an old one, stuck in a drawer somewhere. It might be one you purchased a few years back, or it might be a TAG HEUER that you inherited from a grandparent. Or perhaps a gift. They're all works of art. They're all incredible. They're all monuments to the human spirit and best-in-class watch engenuity. So if you have a TAG HEUER here in New York City and you need TAG Heuer repair, call us up and bring the watch in. Due to Covid-19, our schedule is a bit up in the air, so please call first. But regardless, we want you to have that TAG Heuer on your arm, in tip-top condition. And, if you're lucky enough, we hope you can get on the list for this new TAG HEUER GRAND PRIX DE MONACO HISTORIQUE (39 MM), a numbered chronograph (1000 pieces) powered by the 100% in-house designed and engineered Calibre HEUER 02 Automatic movement.