The TAG Heuer Monaco is both a historic and an iconic watch. Historic, as it was first launched in 1969 changing forever the face of luxury Swiss watchmaking. And, iconic, because its square format is rather unusual in the "round" world of watches. TAG Heuer marked the fiftieth birthday of the watch in 2019 and the Swiss watchmaker is carrying on the celebration of the iconic square-cased chronograph into the year 2020. With all that's going on in our world, it's a welcome relief and focus on history, style, and function in the world of Swiss watches. Let's investigate.
THE NEW AND OLD SQUARE CIRCLE: BROWSING THE TAG HEUER MONACO
First and foremost, you can browse the TAG Heuer Monaco watch collection at https://www.tagheuer.com/us/en/timepieces/collections/tag-heuer-monaco/.  That's the official website from TAG Heuer.  A bit of historical trivia – in 1970, the watch was brought to the movie set of "Le Mans," where Heuer-sponsored Swiss drive Jo Siffert was coaching and stunt driving for famous actor, Steve McQueen. McQueen loved the watch so much he wore it in every scene. As explained by TAG Heuer, the Monaco's provocative look was a total break with conventional watch design. Equally radical was its perfect water-resistance – a first in the world for a square case. And even more innovative was its heart, the Chronomatic Calibre 11, the first automatic chronograph movement with a microrotor.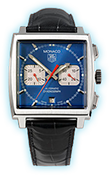 As for 2020, TAG Heuer is celebrating the watch by introducing three new models. One  example of the three is the Monaco Chronograph Heuer 39 mm Calibre Heuer 02 Automatic, which offers two distinct dial options, one in bold black with a sunray-brushed finish, the other in lustrous, sunray-brushed blue, with red and white details.  More can be learned at the URL listed above.
TAG HEUER REPAIR
As is always the case, a brand with an over fifty year history is a watch that we see a lot of here at Ron Gordon Watch Repair. Many customers have inherited a TAG Heuer from a parent, received them as a gift, or they are collectors who have a passion for TAG Heuer watch and scour the Internet and New York City for "vintage" TAG Heuers. Then, what's the next step? Well, a fifty year old timepiece is not going to run perfectly, unless it has been religiously maintained.  The customer thus does well to bring the TAG Heuer into our New York City watch repair. Conveniently located here in Midtown Manhattan, New York, NY, the customer can let Ron examine the watch, evaluate it, and give recommendations on any necessary tune-ups, maintenance, or repairs. At that point, the customer has a TAG Heuer in perfect working order.
If you're looking for TAG Heuer repair (https://www.rongordonwatches.com/tag-heuer/), reach out for a consultation and bring your watch in. It's an exciting brand with exciting watches such as the MONACO. We're excited to see your watch, excited to inspect it, and excited to bring it up to best-in-class working order.