We follow TAG Heuer watches intensely from our post here in New York City. It's one of our most popular watch brands, and of course we see quite a few TAG Heuers into our shop for tune-ups and repairs. It's an incredible brand! Now, they've come out with a new TAG Heuer Carrera Heuer 02T Tourbillon Chronograph; Five years ago, TAG Heuer grabbed headlines with the inaugural edition of its Carrera Heuer 02T, a COSC-certified chronograph watch equipped with a flying tourbillon and priced at a relatively accessible price — tens of thousands less than most other tourbillon watches. Now, the Carrera Heuer 02T is available for the first time with a blue dial and titanium bracelet.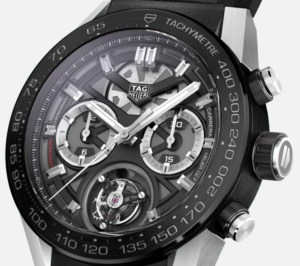 There are many unique features we can zoom into on this unique watch, but let's start with the "tourbillon." Many people do not know what this fancy French word actually means. According to Wikipedia, "In horology, a tourbillon (/tʊərˈbɪljən/; French: [tuʁbijɔ̃] "whirlwind") is an addition to the mechanics of a watch escapement to increase accuracy. It was developed around 1795 and patented by the French-Swiss watchmaker Abraham-Louis Breguet on June 26, 1801. In a tourbillon the escapement and balance wheel are mounted in a rotating cage, in order to negate the effects of gravity when the timepiece (thus the escapement) is stuck in a certain position. By continuously rotating the entire balance wheel/escapement assembly at a slow rate (typically about one revolution per minute), the tourbillon averages out positional errors. Originally an attempt to improve accuracy, tourbillons are still included in some modern wristwatches although they do not improve accuracy while worn due to wrist movement. The mechanism is usually exposed on the watch's face to showcase it" (Wikipedia).
TOURBILLON VISIBILITY IN YOUR TAG HEUER
Not surprisingly, therefore, this watch showcases its internal movements, which makes it a fun watch to wear, to look at, and to converse about.  According to the brand, "The best-selling edition of the revolutionary TAG Heuer Carrera Heuer 02 Tourbillon, with highly recognizable open-worked dial and titanium case. Each one undergoes no less than three weeks of intense testing to ensure it meets the strict chronometer accuracy standards of the Swiss testing agency COSC" (TAG Heuer).  And digging back into the Tourbillon, "The flying tourbillon cage lies between and below the chronograph subdials. Like its predecessor from 2016, the new Heuer 02T's case is made of polished and fine-brushed grade-5 titanium, for maximum lightness and shock resistance and whose modular construction enables a wide range of combinations in the areas of materials, colors, treatments and finishes. It measures 45 mm in diameter and consists of 12 separate components — lugs, case middle, bezel, caseback, crown and its moulding, chrono pushers, gaskets between the case middle and bezel, and sapphire crystals in the front and back. The screwed exhibition caseback bears a special engraved indication of the watch's limited edition number (out of 250). For the first time in this model's production, the case is integrated into a lightweight titanium bracelet with H-shaped links, attaching to the wrist with a double-safety push-button clasp, which adds a touch of elegance to the overall sporty ensemble" (WatchTime).
TAG HEUER REPAIR IN NY NY
Wow! It's always incredible to follow the zigs and zags of the latest TAG Heuers out there. The brand has so many innovative design features, plus they keep up-to-date on the technology as well. Not to mention brand endorsements by celebrities, racing, etc. It's a sportier brand than, say, Rolex, and very popular with active Millenials. Due to the cost of the watches, many people go into the used TAG Heuer marketplace and/or inherit them from a Mom or Dad (sometimes as well as a gift). They then need a "tune up" or "inspection" of their TAG. Fortunately, we're known as the best place in New York City to get TAG Heuer repair and service. If you own a "vintage" TAG Heuer, or any watch that is outside of the warranty period, bring it into us for an inspection. Let Ron now only showcase his passion for TAG Heuer watches but also give you an estimate on a tune up and/or repair to your TAG.