Today we're diving deep into Rolex's latest masterpiece, the Perpetual 1908, which pays tribute to the very year Hans Wilsdorf introduced the world to the iconic brand name, "Rolex."
This year, Rolex graced us with the first member of the new Perpetual collection, blending time-honored watchmaking tradition with Rolex's inimitable expertise. The 1908 exemplifies an understated elegance, championing the brand's aesthetic lineage with a harmonious meld of contemporary design and vintage influences.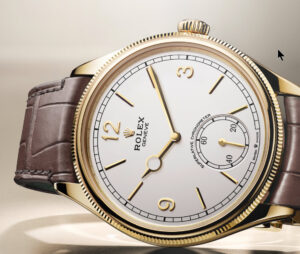 Its design, simple yet striking, exudes a character that's both bold and refined. The intense white or black dial, adorned with the prominent Arabic numerals at 3, 9, and 12, is a nod to some of the earliest Rolex designs. A distinctive touch, the hour hand features a circle just before its tip, and the minute hand resembles a two-edged sword. These elements come together to form a creation that celebrates the zenith of watch craftsmanship.
The 1908 boasts a svelte 39mm case in 18 ct yellow or white gold. Its transparent back offers a mesmerizing view of the movement inside, showcasing the intricacies of Rolex craftsmanship. The gentle chamfering on the lug's top edges and the dual-design bezel make it clear: Rolex leaves no detail overlooked.
The Heart of the Perpetual 1908
At its heart, the Perpetual 1908 is powered by the Calibre 7140. This self-winding mechanical movement is a testament to Rolex's relentless pursuit of perfection. The Chronergy escapement, Syloxi hairspring in silicon, and an oscillator with a balance wheel regulated by gold Microstella nuts, all combine to deliver a precision that's second to none. With a power reserve of approximately 66 hours and an oscillating weight crafted in 18 ct yellow gold, this watch is as functional as it is beautiful.
Every 1908 watch is accompanied by the "Superlative Chronometer" certification, a title only bestowed upon Rolex watches that exceed even the strictest of standards. Not just content with the official COSC certification, Rolex further tests each watch, ensuring it deviates no more than -2/+2 seconds per day!
The final touch to this masterpiece? A meticulously crafted alligator leather strap, tailored specifically for this model, and an 18 ct yellow or white gold Dualclasp ensures the watch sits perfectly on your wrist.
In closing, as Rolex takes us on a journey back to 1908 with this homage, it reminds us of the brand's unparalleled legacy and commitment to excellence.
If You Own a Rolex, Bring it to Ron Gordon
But speaking of legacy, many of you might have inherited or acquired older Rolex timepieces over the years. These watches tell stories, they hold memories, and with time, they might need a little tender loving care.
As your passionate watch repairman in NYC, Ron Gordon invites you to bring in your vintage Rolex for repair or just a chat about this legendary brand. Let's celebrate the timelessness of Rolex together. Here is a summary of some of the services available for Rolex repair.
With over 30 years of experience, the workshop is equipped with advanced machinery to handle comprehensive Rolex services, from basic repairs to water resistance testing and bracelet refinishing. Committed to ensuring that your Rolex operates flawlessly, Ron Gordon provides a full maintenance service that includes the complete disassembly and reassembly of the watch movement, replacing worn or damaged parts with genuine Rolex components, oiling and regulating time according to Rolex specifications, restoring water resistance by updating gaskets, and refining the case and bracelet to Rolex's exacting standards. After a thorough visual and technical inspection, each watch undergoes a final 72-hour analysis. Whether your Rolex is a contemporary model or a cherished vintage piece, contact Ron for expert advice, a free estimate, or any service and repair needs to keep your timepiece in peak condition.