Welcome to Ron Gordon Watches. I work out of my office in midtown New York City. My workshop is fully equipped to handle all phases of watch repair. I have the knowledge and tools to do the job right.
Vintage Zodiac Watch Repair and Service
The Zodiac brand was founded in 1882. Zodiac became famous in the late 1950s-1970s when Edward Trauner started importing them. In the sixties during the Vietnam War the Zodiac Sea Wolf was the preferred watch because of its durability. Other famous ones are the Astrographic, Astrodigit, Autographic, Super Sea Wolf, Sea Chron, Super Sea Chron, SST 36000, Olympus, Zodiac GMT, Moon Phase, and Spacetronic . Zodiac is currently owned by Fossil.
Repairing your Vintage Zodiac Watch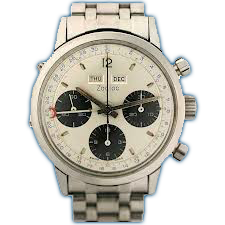 Vintage Zodiac watches are known for their unique designs. These include the Astrographic, Olympus, Spacetronic, Sea Chron and Autographic to name a few. The Seawolf and Super Seawolf were famous in 60's during the Vietnam War. The soldiers would buy these watches because of their durability. Zodiac vintage watches require special parts and tools to repair them and I have both, plus over 30 years of experience to restore them perfectly.
Complete Overhaul / Zodiac Watch Repair Recommendations (every 3-5 years)
The movement is completely taken apart, then any worn or broken parts are replaced with genuine vintage Zodiac parts
The watch is reassembled, oiled and regulated.
Final examination and 72 hour test
If you own a vintage Zodiac and wish to have it repaired, call or email me, and I will be glad to answer any of your questions regarding watch repair or service of these exceptional timepieces!
Other Vintage Watch Brands – Repair and Service
We at Ron Gordon Watches also repair other vintage watch brands such as Waltham, Elgin, Gruen, Howard, Illinois and South Bend to name a few. If you are a lover of vintage watches, please reach out to Ron Gordon, personally, to repair your beloved timepiece!
About Midtown Manhattan, New York City, NY
Midtown is Manhattan's central business district and as a result the majority of skyscrapers lie within its borders. The most recognizable attractions, finest restaurants, largest stores and greatest cultural institutions. As a result, Midtown offers something for everyone. Here are some of Ron and Lolita's top picks to visit while in Midtown, Manhattan.
Midtown Attractions: Midtown Restaurants:
Times Square – Del Frisco's Steakhouse
Grand Central Station – Zaro's
Morgan Library – Zuma
Macys – Wolfgang's Steakhouse
Empire State Building – Starbucks
Bryant Park = Bryant Park Grill