Ron Gordon shares some historical insights into great American watch brands. August 2, 2013.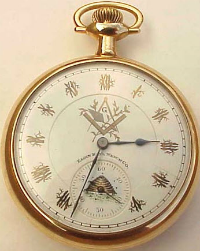 Detroit is very much in the news these days as the largest US city to ever declare bankrupty, but many people do not realize that just a few years ago Pittsburgh, PA, was in a similar mess. Today, Pittsburgh is a thriving metropolis reborn with health care and education.
Can Detroit remake itself? Only time will tell.
Watches are not dissimilar to the rise and fall of cities. Brands rise and fall, and some great American brands have been reborn, either as vintage watches directly or in a new foreign-made edition. In this blog post, I would like to share some history about great American watch brands: Hamilton, Elgin, and Waltham.
Elgin Watch Company: Vintage Elgin Watches & History

First up, Elgin. The Elgin National Watch Company, most commonly known as just the Elgin Watch company, was a major US watch maker from 1864 until its closure in 1968. The company sold watches under the names, Elgin, Lord Elgin, and Lady Elgin. (Wikipedia). This company produced some incredibly beautiful watches; for example you can see a picture of an Elgin Masonic Pocket watch, here. This watch is on exhibit at the Phoenix Masonry museum.
But Elgin watches, like other vintage watches, are increasingly popular not just with museums but with hip people who want something different. One of the brands I repair and sell a lot of our vintage Zodiacs. Zodiac, as a brand, was acquired by Fossil in 2001; but nothing compares to the original, classic Zodiac watches.
Waltham Watch Company: Vintage Waltham Watches & History

Second, let's look at Waltham watches. This is another great American watch brand, which closed its doors in 1957, having produced nearly 40 million watches. If you do a Google image search you can easily see some great exmples of these wonderful brand, now defunct. I can't repair every type of vintage watch, but if you have a vintage watch and are in (or near) New York City, drop by my watch shop and we can discuss possible repairs. It really depends on the value of the watch, the complexity of the repair, and what you are willing to spend to repair what can be not just a family heirloom but a true work of precision art.
Hamilton: Vintage HamiltonWatches & History

Finally, let's look at Hamilton watches. I repair both Hamilton watches (modern) and vintage Hamilton watches, and love the brand. Hamilton is now owned by the Swatch group of Switzerland, so it is an example of a brand that has been reborn. In 1957 Hamilton introduced the first electric watch, the Hamilton Electric 550.
Hamilton is a watch brand that has made a significant comeback. Again, according to Wikipedia:
In the late 1980s and early 1990s, Hamilton began a marketing campaign that resulted in a comeback. Vintage designs were coming back in style and Hamilton had a large portfolio of popular designs from the 1920s, 1930's, 1940's and 1950s from which to draw. Playing on this resurgence, Hamilton replicated several of these original designs, such as the Ardmore, Boulton, Cabot, Piping Rock, Spur, Wilshire, and the 1957 Hamilton Ventura. These reissued watches incorporate a modern Swiss-made quartz movement.
Hamilton is a storied watch brand, with ups and downs; if you own a Hamilton, be proud of its long history!
So, like Pittsburgh and hopefully like Detroit, a great brand can have its ups and downs and be reborn. There is so much history in watches – and whether you have a new watch, or a vintage watch, consider taking it in to me for a repair or checkup. These are precision works of arts that combine beauty and performance.
Enjoy your watch!
~ Ron Gordon
About Ron Gordon Watch Repair

Ron Gordon Watch Repair is located at 280 Madison Ave, Ste. 510, New York, NY 10016. We provide watch repair services throughout New York City, Manhattan, Midtown Manhattan, Downtown and the boroughs of New York, NY. Read our Google Places, Insider Pages, and City Search Reviews, online.