August 29,2014
Ron Gordon Watch Repair in New York City is one of the top watch repair services In the New York, New Jersey, and Connecticut areas. Obviously we WOULD say that, so don't ask us, ask all of our lovely customers who have taken the time and trouble to write Ron Gordon Watch Repair reviews of our service. We didn't ask them to, and they didn't have to, but nonetheless they kindly took the trouble to do so.
You'll find that nearly all of the reviews are five star, but there are the odd one or two that are only four star, and there are a couple that don't seem to like us very much! No matter what sort of business you run, there is an old saying that you can't please all of the people all of the time, and this is just as true in the watch repair industry as anywhere else.
We Care About Our Ron Gordon Watch Repair Reviews

We really do care about our Ron Gordon Watch Repair reviews, so let's take a closer look. (One point to note is that it is not unknown – in the watch repair business, or in any business – for competitors to write negative reviews in the hope of running down another business and getting more business for themselves).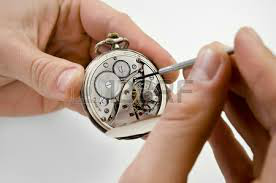 However, when you have dozens upon dozens of five star reviews, a couple of negative ones don't really amount to much. We've had a look at a couple, and their authors seem to be unhappy because Ron Gordon said that we could not repair a watch and would have to send it away to the manufacturer.
Repairing Watches For 31 Years Ron Gordon has been repairing watches for 31 years, so he has fixed a few in his time. Obviously it is rare that we would be unable to repair a watch, but if it should happen, we would rather tell the customer the truth than to attempt a repair if we were not 100% confident. The same thing happens with doctors: sometimes a doctor cannot offer you a cure, so he will send you to a specialist. One of the cases involved a Tissot which was returned to Tissot for them to look at. The customer complained that he heard nothing for a couple of months. This is probably true, but Tissot get thousands of watches to repair and can only handle them in the order in which they receive them. The customer also complains about the quote he was given. That quote was from Tissot – not from Ron Gordon Watch Repairs – and we have no control over Tissot's prices. A couple of other reviews only gave us four stars. However, if you read those reviews expecting to find a negative comment or two, you won't. The customers praise us to the heavens. It is just a fact of life that there will always be one or two people who never give anybody a five star rating simply as a matter of principle!
Glowing Ron Gordon Watch Repair Reviews

Compare this handful of grumbles with the dozens of glowing Ron Gordon Watch Repair reviews from our extremely satisfied customers. We can repair almost all watches – it's what we do, and we do it well. However, if there is a watch that we cannot fix, we would rather be honest and say so. We think most people would respect that.
About Ron Gordon Watch Repair

Ron Gordon Watch Repair is located at 280 Madison Ave, Ste. 510, New York, NY 10016. We provide watch repair services throughout New York City, Manhattan, Midtown Manhattan, Downtown and the boroughs of New York, NY. Read our Google Places, Insider Pages, and City Search Reviews, online.