September 2,2014
When you buy a Swiss watch you are buying one thing, and that is quality. The Swiss have been making quality watches for several hundred years, so when a Swiss watch stops – as they can from time to time – you need a quality watch repair service. Ron Gordon Watch Repair is the only place to go for Swiss watch repair NYC.
Switzerland is a fine country, and the Swiss people have a great way of life. The air is clean and fresh, the mountains green, and the lakes clear. The Swiss people have the great good sense to stay off the world stage; rather than get involved in other people's wars they keep themselves to themselves and quietly get on with their lives doing what they do best. They make watches. They run banks. Oh, and yes, they yodel.
Perfectionists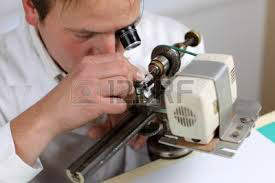 The Swiss are perfectionists. Their timepieces are matched by no-one else in the world. They produce some of the most expensive watches in the world today, many of which have the most amazing functions built into that 1½" disc that sits on your wrist. For example, the Girard Perregaux Opera Three Musical Hours watch ($420k to you) has a miniature musical box within its' case. The music can be played on demand and personalized to the owner's taste.
Many Swiss watches have an incredible number of moving parts – as many as 2,000 in some cases – and over 50 jewels. The Patek Philippe Sky Moon Tourbillon 5002 P is one of the most expensive watches on the market today; they don't make very many of them, but if you want one it will set you back $1.5 million. For that money, it's not even waterproof; the case will only protect against dust and humidity.
Swiss Watch Repair NYC

It follows that when you have an expensive Swiss watch that goes wrong (yes, they do) you want it repaired by someone who understands what they are doing. For the same reason that you wouldn't take your Bentley or Ferrari to the one man repair business on the corner, you don't want to take your Swiss watch to the repair counter in Walmart.
For Swiss watch repair NYC you take it to Ron Gordon Watch Repair. Ron Gordon has been repairing watches of all types for 31 years, so he knows a thing or two about Swiss watches. It is probably fair to say that if Ron Gordon can't fix your watch, nobody else can.
Ron Gordon Watch Repair

Ron Gordon Watch Repair in central NYC can look after your Breitling, Hamilton, Longines and Omega watches, and all of the other famous brands such as Jaeger-LeCoultre, and Vacheron Constantin, together with the products of modern companies like Hublot (founded in 1980) and Daniel Roth (1989). Ron Gordon Watch Repair will take care of your Swiss watch repair NYC requirements, whether they be something as simple as a replacement battery, a new strap, polishing out a scratch, or a complete overhaul. A quality Swiss watch deserves a quality repair.
About Ron Gordon Watch Repair

Ron Gordon Watch Repair is located at 280 Madison Ave, Ste. 510, New York, NY 10016. We provide watch repair services throughout New York City, Manhattan, Midtown Manhattan, Downtown and the boroughs of New York, NY. Read our Google Places, Insider Pages, and City Search Reviews, online.