An Homage to 100 Years of Busy Travelers and the Passage of Time
One hundred years. If you ask Google, 'how many days in 100 years,' you'll learn that Google can tell you this (36524.2 days). And then you can ask Google, 'How many seconds in 36524.2 days,' and you'll learn 3155690880. As someone who's life and business revolves around time, the loving repair of luxury watches like Hamilton, Breitling, Movada and more, I am an admirer of everything that signifies time and man's struggle to surpass it. One hundred years ago, New York City opened one of its landmark monuments, Grand Central Terminal (or often called Grand Central Station), giving the city a modern transit point, and bringing luxury and rapidity to commuters flocking to work in this grand metropolis.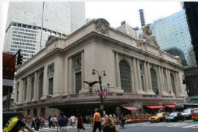 One hundred years. Reflect upon that, as someone who spends his days reflecting on time. Things break, and yet we repair them. New York so loves its Grand Central Station that we have repaired it, fixed it, lovingly many times over these one hundred years. And we have improved it. Our latest improvement is the 'East Side Access,' which will connect the Long Island Rail Road's (LIRR) Main and Port Washington lines in Queens to a new LIRR terminal beneath Grand Central Terminal in Manhattan. The new connection will increase the LIRR's capacity into Manhattan, and dramatically shorten travel time for Long Island and eastern Queens commuters traveling to the east side of Manhattan. You can actually watch photos of the project, here. And you can learn more about NYC's Grand Central's Centennial, here.
One hundred years. Where will you be in one hundred years? One hundred seconds? One hundred minutes? One hundred hours? Watches tell us what time it is, but they don't tell us where we want to go, nor where we will be in whatever interval. My job is to help busy New Yorkers repair their luxury watches, so that wherever they are, whatever they are doing, they have accurate and stylish timepieces.
Style and Grand Central: the Watch Repair View

What is style? What is substance? New York City could have built a boring, functional yet non-beautiful building. Instead, we chose to spend a little extra to create a monument to Beaux Arts, a stylish mecca of transit to go with that fundamental New York City oxymoron: stylish busyness. We are a city of busy people, and yet we are a city never too busy to have style. One hundred years of New York City's Grand Central reflects this juxtapositioning of style and substance, just as the hundred year old history of major luxury watch brands speaks to the same impossible combination of a love of time, the patient watching of time ticking past us, and a love of beauty. TAG Heuer, to give just one example, has been around since 1860. Take this example from their website, "Since 1860—While TAG Heuer is firmly orientated to the future, our company culture is still firmly based on our heritage from the past. The values and expertise of leading watchmakers has been handed down from generation to generation, making TAG Heuer a brand that is both timeless and daring, that transcends types and styles, a highly contemporary name for all those who love a challenge."
Isn't that the same spirit that makes Grand Central Station timeless? A combination of respect for the past and an embrace of the future?
A Watch Repair Shop Near Grand Central

Our location in midtown Manhattan, not far from Grand Central puts Ron Gordon Watch Repair near the center of this fulcrum of transit, of time, of world commerce. One hundred years. Thirty-six thousand five hundred twenty four days. How many commuters? How many lives? How many people glancing at their watches, rushing to work, or rushing home to dinner? How many who depend on a train station that runs 'on time,' and watches that run 'on time,' and yet how many who believe that the contradiction between form and function is a false one. As one hundred years of Grand Central so proves – function can be beautiful, and so we salute one of New York's most beautiful yet functional monuments to being on time: Grand Central.
About Ron Gordon Watch Repair

Ron Gordon Watch Repair is located at 280 Madison Ave, Ste. 510, New York, NY 10016. We provide watch repair services throughout New York City, Manhattan, Midtown Manhattan, Downtown and the boroughs of New York, NY. Read our Google Places, Insider Pages, and City Search Reviews, online.