Breitling watches are beautiful timepieces, created with the kind of meticulous care Swiss watches are world-famous for. As one of New York's top-rated Breitling watch repair services, we see Breitlings all the time and love to work on these luxury watches! That's why at Ron Gordon Watch Repair, there is nothing worse than finding out a customer has been tricked into buying a fake Breitling.
Sadly, imposters are everywhere. It is important to make a thorough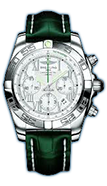 inspection of the luxury watch before purchasing. Whether you have inherited a luxury watch or found a seller, it's vital to carefully scrutinize that Breitling for authenticity. The level of imposters can range from "pretty obvious" to "hard to tell." Remember, fine Swiss watchmakers spend their time attending to every detail. This is their legacy. If you see anything that brings up a red flag, do not purchase the watch! Below are ­­­­­eight red flags to help you tell if that Breitling is a fake.
Red Flags that a Breitling is a Fake
1. Weight: The amount of care and detail in a Swiss-made timepiece is reflected by the weight. Breitling's are heavy and feel well-balanced. If you put it in your hand and the watch feels light, that is the first red flag it is a fake.
2. The Logo: Inspect at the dial and the logo located under the 12. The logo should match Breitling's exactly. With a real Breitling, the "B" will be completely filled with metal and the image is raised, clearly standing out. A replica will look like a sticker with cheap, stamped writing.
3. The Calendar : A true Breitling calendar should fill up the entire cavity and be exceptionally clear to read. There will be no gap between the calendar and the dial itself. If it appears "off" in any way, this is a red flag.
4. Chronograph Dials: Inspect the labels around the chronograph dials. There should not be dates or months, only numbers. Also check the operation of these dials. A Breitling Chronograph watch is expensive to produce. The functions of a cheap replica will not work properly.
5. Model Numbers: Every genuine Breitling watch is going to have a model number located on the case back. The model number has to match the watch.
6. The Buckle: When inspecting the buckle, notice the word "Breitling" is precise, thick and deeply engraved. When you run your finger across the lettering, you will feel it. Yet, the other side of the buckle will be smooth with no stamping coming through. This is the quality you are looking for.
7. When in Doubt, Open the Back: Sometimes you will come across a high-quality imposter that passes all the other red flag tests. It feels heavy, well balanced and the leather or metal band appear to be good quality too. Don't let that fool you! It's time to take a look inside. Make sure any small engraving notes are Swiss. All Breitlings are Swiss crafted and only Swiss Made should be noted on the watch. A dead giveaway that the watch is fake will be "Japan" stamped somewhere inside.
8. The Seller Balks: Remember, those who know the Breitling is a fake will not want you to take to it a professional watch repair of your choosing. No matter how good the deal seems, when they push back at your request to visit a professional watch repair shop, this is a serious red flag and it's time to walk away.
Breitling Watch Repair in New York City
Even if you believe the Breitling is the real deal, it will bring great piece of mind to take it to a professional New York watch repair shop for inspection and confirmation. Whether the Breitling is a Colt, Transocean, Montbrilliant, Superocean, Galatic or Avenger, Ron Gordon can inspect and repair it thoroughly! Only a skilled watch repair professional will help you tell a "fake" Breitling from a "real" Breitling. Breitling Swiss watches are designed with high standards for people who live their lives that way. So remember to take it to a New York watch repair expert skilled in spotting the real thing. When there are no red flags, it will be easy to spend the money and know you are now the proud owner of an authentic Breitling!
Ron Gordon,
Ron Gordon Watch Repair of New York, NY
http://www.rongordanwatches.com