For someone who repairs Omega watches here in our NYC watch repair shop, I am fond of the history (and trivia) of each brand. Indeed, being in NYC also has its historical side, as this is a great town and New York City has its own share of historical quirks and strange tails.
To that end, here is a mash up of Omega Watch History and New York City History. If you have a favorite fact (either about Omega Watch History or New York City History), let me know.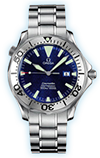 OMEGA WATCH HISTORY – FACT #1
First Watch in Space. The Speedmaster ref. CK 2998 was the first OMEGA to reach space, when astronaut Walter Schirra wore the watch during the 'Sigma 7' mission of the Mercury Programme in 1962. Schirra had purchased the watch for his own use, but two and a half years later, the Speedmaster would be officially certified by NASA for all manned-missions, launching it into history.
NEW YORK CITY HISTORY – FACT #1
Second Biggest User of Helium. The first Macy's parade occurred in 1924, and was called the "Macy's Christmas Day Parade" although it took place on Thanksgiving Day. Live animals including camels, goats, elephants, and donkeys, were a part of the parade that inaugural year.
The parade was canceled in 1942, 1943, and 1944 due to World War II.
Macy's is the world's second largest consumer of helium. The United States government is the first.
OMEGA WATCH HISTORY – FACT #2
First Omega Wristwatch. The first wristwatches bearing the Omega name were produced in 1900 and used by British officers in South Africa's Boer War (1899-1903). Omega was one of the first firms to begin serial production of wristwatches. The watches withstood the rough treatment they got. An Omega advertisement in a watchmakers' magazine in Leipzig in 1904 publicized the testimony of a British artillery officer whose Omega wristwatch performed admirably in bitter cold, searing heat, torrential rain and merciless sandstorms. The lieutenant colonel concluded that "The wristwatch is an essential campaign element." The wristwatches were powered by a Lépine 12-ligne Caliber HN B and were available in two versions: one with the crown on the right, to be worn on the left wrist, and the other with the crown on the left for wearing on the right wrist.
NEW YORK CITY HISTORY – FACT #2
New York City's Grid Pattern. In 1811, the "Commissioner's Plan" established an orderly grid of streets and avenues for the undeveloped parts of Manhattan north of Houston Street. In 1837, construction began on the Croton Aqueduct, which provided clean water for the city's growing population. Eight years after that, the city established its first municipal agency: the New York City Police Department.
OMEGA WATCH HISTORY – FACT #3
Chronometer Facts. Omega began using the name "Constellation" in 1952 to denote its officially certified wrist chronometers. The premier model was powered by Caliber 28.10 RA SC PC RG AM (nicknamed the "352"), which first appeared in 1945. This caliber wound itself via a unidirectional hammer-type winding weight. It also featured an indirectly propelled central seconds hand. The 28.1-mm-diameter, 5.4-mm-thick movement passed the official chronometer tests with flying colors. Its sturdiness, reliability and precision prompted Omega to produce the Constellation in large numbers. This model was also Omega's first serially manufactured wristwatch chronometer.
NEW YORK CITY HISTORY – FACT #3
Resilience in the Face of Terror. On September 11, 2001, New York City suffered the deadliest terrorist attack in the history of the United States when a group of terrorists crashed two hijacked jets into the city's tallest buildings: the twin towers of the World Trade Center. The buildings were destroyed and nearly 3,000 people were killed. In the wake of the disaster, the city remained a major financial capital and tourist magnet, with over 40 million tourists visiting the city each year.
OMEGA WATCH HISTORY – FACT #4
Omega Speedmaster. The Omega Speedmaster, destined to become the most famous chronograph in the world because of its use by NASA for the Apollo program, was introduced in 1957. But the Speedmaster story really begins in 1943 with chronograph Caliber 27 CHRO C12, developed by Jacques Reymond. Born into a long-established family of watchmakers, Reymond had joined Omega's subsidiary Lemania in 1942. The "CHRO" in the caliber designation stood for "chronograph," the "27" referred to the movement's diameter in millimeters, and "C12" denoted the additional counter for 12 elapsed hours. Further developed by Albert Piguet in 1946 and christened by Omega with the shorter name "321," this movement was the smallest of its type at the time.
NEW YORK CITY – FACT #4
Famous People. New York City has more than its fair share of famous people who claim it as their birth city. These range from Eleanor Roosevelt to Elena Kagan, Billy Joel to Adam Sandler. And, in addition to famous people who were actually born there, New York City is home to many, many more famous persons (among them Donald Trump).
OMEGA WATCH REPAIR – FACT #5
First Co-Axial Escapement (1999). The Omega De Ville Co-Axial contained automatic Caliber 2500, the first wrist chronometer with a co-axial escapement. The escapement was invented by English master watchmaker George Daniels. Omega developed Daniels's design so that it could be manufactured in large quantities. Caliber 2500 was a modified self-winding movement from Omega's Swatch Group sister, ETA. The co-axial escapement went a long way toward solving two fundamental problems that had plagued long- lasting precision timekeeping.
NEW YORK CITY – FACT #5
The Federal Reserve Bank on New York's Wall Street contains vaults that are located 80 feet beneath the bank and hold about 25 percent of the world's gold bullion.
Well, there you go. Fun facts about OMEGA watches and New York City. Remember, if you need OMEGA Watch Repair in New York, NY, you know where to look.