At the recent WatchTime conference in New York City (https://www.watchtimenewyork.com/), Tag Heuer had lots of exciting news. We here at Ron Gordon Watch Repair are huge Tag Heuer fans and huge New York City fans, so when WatchTime comes around, we pay keen attention to everything new. Tag Heuer made some exciting news at the show by announcing their Monaco Gulf Special Edition. (You can learn a bit more at the Tag Heuer website at https://www.tagheuer.com/en-us/watches/monaco-calibre-11-39-mm-caw211r-fc6401). The watch, of course, is a stunning classic with a blue and orange sport look, having been worn (and made very famous) by Steve McQueen in the movie Le Mans (produced in the early 1970s). The watch was the first square waterproof automatic chronograph, and having Steve McQueen make it "famous" helped it establish itself as an iconic luxury watch. There is some corporate sponsorship in the film, which is allegedly responsible for the color choices, but then again, the stripes predate the movie, so who knows? The watch is retailing for $5,900 with limited supplies. You can learn a bit more about its history at https://www.tagheuer.com/en-us/watches/monaco.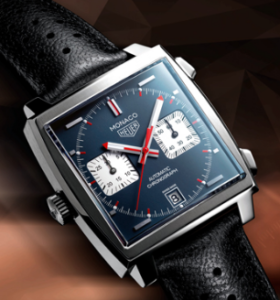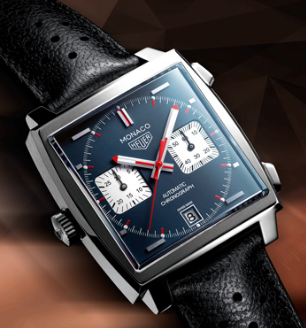 That said, this is the fourth issue of this classic watch, and – as the premier Tag Heuer repair shop in New York City – we can take you all the way back to the classic editions produced earlier. It's not every day that we see a Tag Heuer Monaco Gulf Special Edition come into the watch repair shop here in Midtown Manhattan, but we do see them. Often it's a person who has inherited the watch from a parent or grandparent, or perhaps been given one as a gift. Many a man has this watch for some time, sometimes in a drawer and then as watch fashions change it comes back in style. Nowadays, there is an iconic shift to classic watches away from the super modern look. I mean – really – nearly everyone has an Apple watch, so it doesn't say much about personal style to have one (not that the Apple watch isn't great – it's just a very different type of watch, and much more for the watch "masses" than for the "cognoscenti").
Another scenario is when someone goes on the Internet and shops for a Tag Heuer watch and finds this rare edition. Or, they may buy it used here in New York. They may be able to allow us to pre-inspect the watch before purchase and/or after purchase have us give the watch a tune up or a complete repair / overhaul. The original editions of this Tag are now quite old, so if you are lucky enough to have one in your possession be sure to bring it in for inspection, tune-up, and repairs as needed. We are proud to be the #1 place in New York City to get a Tag Heuer repaired and proud to be passionate about the Tag Heuer watch brand, so we really endorse people collecting these incredible watches and also wearing them.
Tag Heuer has an amazing brand and sense of style. So if you are lucky enough to own one, please wear it. It says a lot about your personal sense of style, and like any great work of art or design, it's a testament to the human spirit and to human ingenuity. It has the WOW factor when on your wrist, and allows you to strike up a conversation with anyone who asks, "What kind of watch is that?" You can then share some of the history of this watch, some of the passion that Tag Heuer has for watch making, and spread the spirit of watch passion. There are few kinds of works of art that you can wear on your wrist, use in your everyday life, and leverage as conversation starters. The Monaco Gulf Special Edition is one such type, and we are incredibly excited to have had Tag Heuer choose New York City's WatchTime conference to announce this latest edition!