Nowadays in New York City, it's easy to forget that New York's origin was as a port city. New York Harbor, of course, still inspires with the Statue of Liberty and the incredible views of the New York City skyline, but many workaday New Yorkers are going on about their business whether in downtown or midtown, and are hardly sailors, tradesmen, or even pirates. Only when you get high in a skyscraper often does the view of the ocean come, and only with a little history might you remember, or realize that even today, New York is a port city, a city intimately tied to the ocean.
Rolex and the Deep Sea
So it goes with watches. Mention "Rolex" to a New Yorker and what might come to mind is flashy yet beautiful diamond-studded watches. Incredible fashion, incredible design, and of course an incredible statement. Anyone who wears a true Rolex is announcing to the world that they've "made it," with a sense of style that doesn't come cheap. But look beneath the surface, and you'd realize as well that Rolex has a long relationship with the sea. The watches have been used in water sports, from scuba diving to deep sea diving, and as timing at sports events. Water and Rolex go together well. For example, in 1953, Rolex introduced the Submariner, the first divers' watch waterproof to a depth of 100 meters. It featured a rotatable bezel that allowed divers to read their immersion time, and it broke out from the sea to be just a "cool watch" the landlubbers wanted to wear, too. It helped a lot that famous and high-profile divers, among them the French Jacques Cousteau sported the watch on their dives. In 1953, August Piccard and his son Jacques succeeded at a world diving record, to a depth of over 10,000 feet but the watch survived. Later, the watch was featured in the James Bond films by iconic Sean Connery (in fact at least nine times).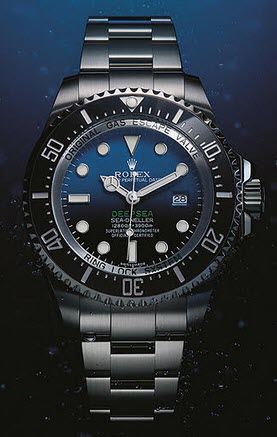 And in 1967, Rolex launched the Sea-Dweller, the Oyster Perpetual Sea-Dweller, which was waterproof to a depth of 610 meters. To meet the needs of professional deep-sea divers, the case was equipped with a helium escape valve so that, during long decompression phases in hyperbaric chambers, the helium from the gas mixtures used could be released without risking damage to the watch.
The New Rolex DeepSea
At Baselworld 2018, Rolex announce the new Rolex Deepsea. The watch of the deep is equipped with the cutting-edge calibre 3235 and introduces a redesigned case with a broader bracelet and resized Oysterlock folding safety clasp. Aimed at professional divers, the watch features a 44 mm case with redesigned lugs and sides and a broader Oyster bracelet, as well as a correspondingly adapted Oysterlock folding safety clasp. This professional divers' watch, is equipped for the first time with calibre 3235, at the forefront of watchmaking technology. The new Rolex Deepsea is made of Oystersteel, and sports a D-blue dial with a deep-blue to pitch-black gradient. This dial was launched in 2014 on a commemorative version of the watch in tribute to the DEEPSEA CHALLENGE expedition. On this journey, partnered by Rolex and the National Geographic Society, film-maker and explorer James Cameron descended 10,908 metres (35,787 feet) to the ocean's deepest point, located in the Mariana Trench. Like all Rolex watches, the new Rolex Deepsea carries the Superlative Chronometer certification, which ensures singular performance on the wrist. Learn more, here.
This kind of amazing, exciting watch combines the passion of Rolex for best-in-class high performance watches with an incredible sense of style. Many watch owners may not dive with the watch, or dive infrequently, but it showcases on their wrist a commitment to excellence and a passion for watch-making that is a conversation-starter and an homage to Rolex as practical art.
Rolex Repair
If you're lucky enough to own one of the previous generations of Rolex Deepsea watches, bring it in to us for inspection and/or possible repair. As the top-rated Rolex repair shop in New York City, we're always excited when we get to work on one of these timepieces, which isn't often. Like the view of the ocean from New York City, it's not something that you see every day, but when you do, it reminds you of the synergies among man, nature, and technology that are just breathtaking.