New York, NY – April 24, 2019. Ron Gordon Watch Repair, New York City's top watch repair for TAG Heuer watches, is proud to announce a new blog post on the exciting new TAG Heuer Autavia collection. Showcased at Baselworld 2019, the TAG Heuer Autavia has been described as "vintage looks with a state-of-the-art heart" by Martin Green of Haute Time, and is receiving rave reviews from TAG Heuer fans. As the best-in-class watch repair in New York City for TAG Heuer watches, Ron Gordon Watch Repair shares insights into luxury watches on its lively blog.
"TAG Heuer is one of those watch brands that really knows how to combine the new and modern trends with a sense of history," explained Ron Gordon, proprietor of Ron Gordon Watch Repair. "When we saw and heard of the TAG Heuer Autavia re-release at Baselworld, 2019, we were super excited and keen to see this new yet old watch from TAG Heuer. Our blog posts shares some insights into the announcement plus has links to some very cool videos about the watch. Even famous actor Patrick Dempsey got into the midst and released a 'video poem' about the new watch."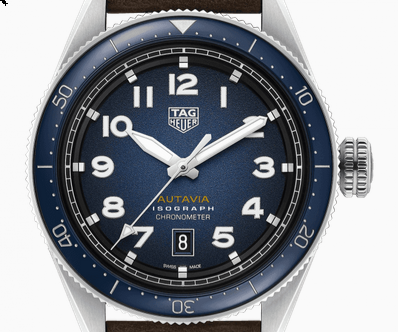 To read the new blog post visit https://www.rongordonwatches.com/2019/04/tag-heuer-autavia/. There, one can learn about the new TAG Heuer Autavia collection and find quick and easy weblinks to more information, including two informative and fun videos. The first is the official introductory brand video by TAG Heuer, and the second is the homage in video poem format by actor Patrick Dempsey. Those two videos in addition to links to the website make it easy and fun for New York City TAG Heuer lovers to get up-to-speed on this exciting addition to the watch brand. In addition, persons who might happen to have one of the original series which dates to the 1960s are encouraged to visit the New York watch repair shop's page on TAG Heuer repair, and possibly reach out for an inspection, tune-up, or possible repair. It is hoped that TAG Heuer lovers, both old and new, can come together around this new brand reboot to combine the love of the modern and of the traditional that is such a key part of the TAG Heuer brand success story.
TAG HEUER REPAIR IN NEW YORK

Here is background on this release. Ron Gordon Watch Repair shares a passionate love of luxury watches as the best-in-class New York City watch repair shop. From the Midtown Manhattan location, the watch repair shop is convenient for busy New Yorkers who have luxury Swiss watches and are interested in getting those watches repaired. Moreover, the shop uses its lively blog to educate the readership on watch trends and insights. When the TAG Heuer Autavia was announced in Baselworld 2019, the watch world was lit on fire with excitement. Indeed, the watch reboot was chosen by TAG Heuer fans themselves – it was identified as one of the key collections that TAG Heuer aficionados wanted to bring back. In this way, the watch combines both a passion for the historical and an awareness of the new. Thus, while technically not a vintage watch, it's a watch the retains history and beauty as part of one of the foremost collections in the world. Interested persons are urged to read the new blog post and follow the links to Internet resources on the brand.
ABOUT RON GORDON WATCH REPAIR

Ron Gordon Watch Repair is conveniently located at 280 Madison Avenue at 40th Street in Midtown Manhattan, New York City. The company specializes in the service and repair of high quality, luxury, watches, both modern and vintage, and repairs watches for those who wear the very best brands. The expert and namesake is Ron Gordon.
Contact:
Ron Gordon Watch Repair
Tel. 212-896-8999
Web. https://www.rongordonwatches.com/