Omega is one of the best known watch brands on planet earth, and it is also certainly the best known of this planet. From the National Aeronautics and Space Administration (NASA) to other space explorations to the fictional James Bond of 007 fame, the Omega Watch brand has issued names like Speedmaster, Seamester, and Constellation. Omega is all about "off planet" activities and style. But beyond this well-known association with exploration on and off planet earth, here are ten things to know about the brand and one thing do know about Omega watch repair in NYC.  (Note: the following is an excerpt from WatchTime (http://tinyurl.com/y6ghba2r)).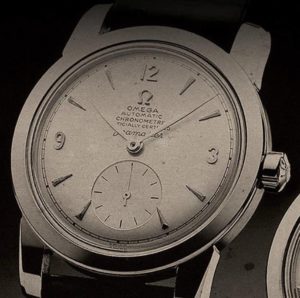 The Origin of the Name, Omega. In 1848, Louis Brandt founded the company that would become Omega in La Chaux-de-Fonds, Switzerland. In 1877, his sons Louis-Paul and César joined him, and the company name was changed to Louis Brandt & Fils. In 1894, the company produced a new movement that proved to be a global success, thanks to its timekeeping accuracy and ease of repair. The movement was known as the Omega caliber, and its success was such that in 1903, the company name was changed to Louis Brandt & Frére – Omega Watch Co., and the Omega brand name was born.
Omega's Precision Timing. During the 19th and early 20th centuries, before quartz and GPS, nations and industries depended on precise mechanical timepieces. To encourage improvements in this field, Observatory trials were held. These chronometric marathons tested timepieces of various types for extended periods, and the winners earned substantial publicity and bragging rights. Top manufacturers competed against each other head to head to win these Superbowls of watchmaking. Omega enjoyed tremendous success at these trials, setting numerous world records. At the 1931 Geneva Observatory trials, Omega won First Prize in all six categories. That same year, the company adopted the advertising slogan "Omega – Exact time for life." That was not hyperbole, but a claim backed up by decades of Observatory trial results.
To the Ends of the Earth via Exploration. After three months of walking, Reinhold Messner reached the South Pole.Who led the first surface expedition to reach the North Pole? Was it Robert Peary? Perhaps Frederick Cook? How about Ralph Plaisted? Chances are you're not familiar with the last name, but you should be, because the story of who actually reached the North Pole first via an overland route is a fascinating one…Of the three candidates, Plaisted seems the least likely to claim the title. He was an insurance salesman from Minnesota who was also an avid outdoorsman and snowmobiler. Friends said that if he liked the newly-invented snowmobile so much, he should drive one to the North Pole. And in what sounds like a modern made-for-GoPro story, he did. His party set out on the 412-mile trek from Canada's Ward Hunt Island, not far from Peary's start on Ellesmere Island. Riding snowmobiles and armed with Omega Speedmasters and sextants to track their location, they reached their final camp on April 19, 1968, after a 43-day trek. Plaisted's team was the first to receive independent confirmation that it had actually reached the North Pole, when a U.S. Air Force C-135 flew overhead and confirmed their location. Today, many historians of polar exploration agree that Plaisted's party was the first to reach the North Pole by an overland route.  Then, at the other end of the planet, in February, 1990, Arved Fuchs and Reinhold Messner completed what some called the "last possible land journey on earth." The pair crossed Antarctica on foot. The 1,740-mile journey took 92 days. Enduring temperatures of -40° F and winds exceeding 90 mph, they crossed the Thiel mountains to the South Pole, then continued on to McMurdo Sound on the Ross Sea. Messner's timekeeper on this journey was an Omega Speedmaster.
The Space Race. In the autumn of 1962, a group of astronauts including Walter Schirra and Leroy "Gordo" Cooper walked into a watch shop in Houston looking for watches to use on their upcoming Mercury program flights. They left with Omega Speedmasters, and so began Omega's history with space exploration.At the end of the Mercury program the following year, astronauts approached NASA Operations Director Deke Slayton and asked to be issued with watches for use during training and flight. Their timing was perfect, because NASA had just hired a group of engineers to evaluate, test and certify equipment for use by astronauts. NASA eventually tested watches provided by Omega, Rolex, and Longines-Wittnauer. The tests were brutal, designed to test watches to destruction. On March 1, 1965, NASA selected the winner, certifying the Speedmaster reference ST105.003 "Flight Qualified for all Manned Space Missions". Fast forward to July 21, 1969.Neil Armstrong stepped off the Eagle to become the first human to stand on another world. However he was not wearing his watch. He left it on the Eagle, because the on-board clock was not working. A few minutes later, Buzz Aldrin stepped onto the Moon's surface, wearing his watch, and the Omega Speedmaster Professional became the first watch to be worn on the Moon.
Master of the Sea. Omega launched the Seamaster line in 1948 to celebrate the brand's 100th anniversary. That makes it the oldest line in the current collection, which also includes the Speedmaster, Constellation and De Ville. The Seamaster was loosely based on the watches Omega made for the British military at the end of World War II. In 1957, Omega launched the Professional range of Seamaster watches with the debut of the Omega Seamaster 300. Jacques Cousteau's team used the Seamaster 300 during its "Precontinent II" experiments in the Red Sea in the summer of 1963 to prove that divers could live in a submerged saturated gas environment for long periods without adverse effects. Military units, including the British Special Boat Service, chose the Seamaster 300 as their official watch. As divers lived and worked at ever-greater depths, Omega began work on the famous "Ploprof" (PLOngeur PROFessionel, or "professional diver" in English) Seamaster 600, launched to the public in 1970 after four years of research and testing. During the R&D process, Omega tested the PloProf to 600 meters at the factory, and to 1,000 meters off the coast of Marseilles. In September, 1970, three COMEX divers wore the PloProf for eight days, working in the water four hours per day, at a depth of 250 meters. Cousteau's divers also used the watches off the coast of Marseille during a set of experiments to test the effects on divers working at depths up to 500 meters. To this day, the Omega Seamaster name is synonymous with professional diving.
Omega Timing. Omega manufactured its first chronograph in 1898, and within 10 years, the timepieces had been used to measure time at more than 16 sporting competitions. After winning 1st place in all six categories at the 1931 Geneva Observatory trials, Omega's reputation for accuracy led the International Olympic Committee to appoint Omega as the official timekeeper of the 1932 Los Angeles Olympics. This was the first time in Olympic history that one brand had been given the responsibility to time all events.
Bond, James Bond (and Film). Over the years, James Bond has worn a couple of watch brands, but today, none is more closely associated with the storied franchise than Omega. The year 1995 marked two firsts for the famous agent: GoldenEye featured a new James Bond, played by Pierce Brosnan, and the Omega Seamaster debuted on his wrist. Since then, 007 has worn Omega in Tomorrow Never Dies, The World is Not Enough, Die Another Day, Casino Royale, Quantum of Solace, Skyfall, and SPECTRE (in which Bond donned a new Omega Seamaster 300).
The Kennedy Connection. Official brand ambassadors aside, Omega has proven a favorite of many world leaders and celebrities. Soviet President Mikhail Gorbachev was often photographed wearing his gold Constellation Manhattan. In the aforementioned 1995 film My Fellow Americans, Jack Lemmon plays a former American President. At one point, Lemmon comments on his watch, saying "That's a Constellation. It was given to me by Gorbachev!"
The Co-Axial Escapement. As we have seen, from its early days, Omega has pursued precision timekeeping. One of the holy grails in this area is a very low-friction escapement. So it is no surprise that when renowned English watchmaker George Daniels developed his now-famous co-axial escapement, Omega would take up the challenge of putting it into large-scale production. Those efforts culminated with the 1999 launch of the Omega Co-Axial Caliber 2500. Omega touted the mechanism as the first practical new watch escapement to be invented in 250 years.
Conquering Magnetism. In 2013, Omega announced the creation of the world's first movement that is resistant to magnetic fields greater than 15,000 gauss, far exceeding the levels of magnetic resistance achieved by any previous movement. Most anti-magnetic watches utilize a soft iron inner case which distributes electromagnetism in such a way that it cancels the effect on the movement. Omega's approach was to design a movement in which the critical components are fashioned from non-ferrous materials, eliminating the need for an inner case and providing a far greater resistance to magnetic fields.
And One Thing about Omega Repair NYC
Those are ten fun facts about Omega watches from WatchTime magazine. We're avid readers here at Ron Gordon Watch Repair of New York City and get quite a vicarious thrill from talking with our customers about their favorite luxury watch brands and watch trivia. But there is something that upsets us. It's an Omega watch that's stuck in a drawer somewhere, not working. Omegas – being mechanical timepieces – need regular maintenance and they do break down. But if you have an Omega that's not working, don't despair. We're known as the best-in-class Omega watch repair in New York NY. Bring your Omega timepiece into us for repairs, and we can give you an estimate and then schedule a repair. If you have a functioning Omega, don't hesitate to reach out to us for regular maintenance. We want to keep your Omega watch in tip-top condition so you can wear it and "show it off" to the people of New York City.