New York, NY – May 18, 2019. Ron Gordon Watch Repair, New York City's top Rolex repair service with a convenient Midtown location, is proud to announce a new blog post on the so-called Rolex Batman watch or as it is officially known, the GMT-Master II. The watch sports a blue and black color scheme (hence the Batman allusion), but is much more than just good-looking. The new blog post draws reader attention to this popular watch and explains its origin in the mid 1950s.
"Nothing conveys style and success like a Rolex watch," explained Ron Gordon, proprietor of Ron Gordon Watch Repair. "For this reason we pay close attention to Rolex new issues such as the GMT-Master II. Many of our customers bring in older, vintage versions of this Rolex watch as it was originally issued in 1955, and we repair many Rolex watches right here in Midtown."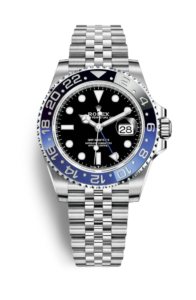 To read the new blog post visit https://www.rongordonwatches.com/2019/05/batman/.  There, one can learn about the watch's history as well as its technical specifications. For example, the Rolex GMT-Master was originally designed for professional use to aid airline pilots. However, its combination of peerless functionality and instantly recognizable aesthetics has attracted a wider audience of world travelers. In addition, the blog post explains the work of brand allusion, namely that owning a Rolex watch conveys a sense of style and excellence; owning a GMT-Master II harkens back to the Batman and aeronautics craze of the late 1950s and 1960s as pilots were setting new world records and the Space Age was at its zenith. To learn more about the watch, users can also visit the official Rolex page on it at https://www.rolex.com/watches/gmt-master-ii.html.
ROLEX REPAIR IN MIDTOWN NEW YORK CITY
Here is background on this release. Ron Gordon Watch Repair shares a passionate love of luxury watches as the best-in-class New York City Rolex repair shop. The reality is that many New Yorkers own vintage or older Rolex watches, including the original issue of the Rolex "Batman" from the 1950s, as well as other models of Rolex watches. Because these watches are quite expensive and because each and every one of them is a work of art, people desire to keep them running in tip-top condition. After all, there is nothing as tragic in life as a Rolex watch that sits in a drawer because it is non-functional.
For this reason, many New Yorkers entrust their Rolex watch repair to Ron Gordon Watch Repair and can learn more at https://www.rongordonwatches.com/rolex-repair/.  Ron can provide an evaluation and estimate on any tune-ups or repairs needed; indeed, many folks bring their Rolexes into the shop for a pre-purchase evaluation. After all there are many fake Rolex watches out there (See: https://www.rongordonwatches.com/2013/11/spot-fake-rolex-watch/). Finally, Ron uses his lively blog to alert the New York City watch community to trends in luxury Swiss watches such as this re-issue of a timeless classic from Rolex, the Rolex Batman or GMT-Master II.
ABOUT RON GORDON WATCH REPAIR

Ron Gordon Watch Repair is conveniently located at 280 Madison Avenue at 40th Street in Midtown Manhattan, New York City. The company specializes in the service and repair of high quality, luxury, watches, both modern and vintage, and repairs watches for those who wear the very best brands. The expert and namesake is Ron Gordon.
Contact:
Ron Gordon Watch Repair
Tel. 212-896-8999
Web. https://www.rongordonwatches.com/