New York, NY – October 23 2019. Ron Gordon Watch Repair, the New York City leader in Omega watch repair at https://www.rongordonwatches.com/omega-watch/, is proud to announce a new post to its blog on the new Omega Seamaster Diver 300M. The new watch by Omega commemorates the brand's relationship with the James Bond franchise and is launched in anticipation of the next film in the Bond series, "No Time to Die."
"We are huge James Bond fans as well as Omega watch lovers," explained Ron Gordon, proprietor of Ron Gordon Watch Repair. "Everyone here in the watch repair shop is excited about the forthcoming new James Bond movie, and the fact that Omega is doing a reissue of the Seamaster Diver 300M just builds on the excitement. We see many old and new Omega watches here in our watch repair shop, and urge anyone who has an Omega to bring it in for inspection, tune up, and necessary watch repairs."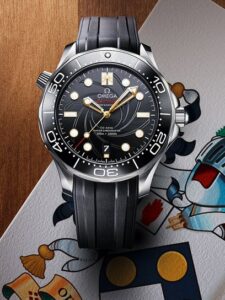 To read the new blog post, visit https://www.rongordonwatches.com/2019/10/omega-bonds/.  The post explains the relationship between Omega and Bond, and has a brief summary of the new watch's features. Plus it contains outward links where persons who love Omega watches (or James Bond) can explore the Internet for more information. In his blog, Ron alerts the watch-loving community of New York City to upcoming events and developments that impact luxury watches. Omega is one of his favorite brands, and it is one of the most popular brands to be sold and thus repaired at the shop. Many New Yorkers have older or vintage Omega watches and bring them into the Midtown watch repair shop so that they stay in working condition.
"There is nothing more tragic than an Omega watch stuck in a drawer in a non-functioning state," concluded Ron Gordon.
THE BEST WATCH REPAIR FOR OMEGA WATCHES IS RON GORDON

Located in Midtown Manhattan, Ron Gordon repair is a leader in luxury watch repair in New York City.  While the company focuses on many brands such as Rolex watch repair  (https://www.rongordonwatches.com/rolex-repair/), Omega watch repair is one of its most popular categories. Many New Yorkers prefer the Omega brand because it is sporty, has a long and historical connection to outdoor activities such as scuba diving or snorkeling, and has built its brand on an affinity with the sleek machismo of James Bond. The Omega brand combines best-in-class watch technology with good looks and a sporty demeanor. That said, many New Yorkers do not have the latest Omega watch but due to the cost of the watches have older varieties. Indeed, many inherit their Omega from Mom or Dad, and then bring the watch into Ron Gordon for an inspection, tune-up, and – if necessary- thorough repair. Ron takes his passion for watches and turns that into an attention for detail. No detail is too small for Ron when evaluating an Omega watch. At the end of the repair process, the New Yorker receives his or her watch back in tip-top condition. Those who own Omega watches are urged to bring them in for repairs, and then wear them to the opening of the new James Bond film. The watches are great conversation starters and help the audience participate in James Bond sheer "coolness" as he fights the bad guys and brings them to justice in an elegant way, with an Omega on his wrist.
ABOUT RON GORDON WATCH REPAIR
Ron Gordon Watch Repair is conveniently located at 280 Madison Avenue at 40th Street in Midtown Manhattan, New York City. The company specializes in the service and repair of high quality, luxury, watches, both modern and vintage, and repairs watches for those who wear the very best brands. The expert and namesake is Ron Gordon.
Contact:
Ron Gordon Watch Repair
Tel. 212-896-8999
Web. https://www.rongordonwatches.com/