Omega is one of our favorite watch brands here at Ron Gordon Watch Repair. Many New Yorkers love it for its style and for its history. It's one of the storied brands of luxury Swiss watches, and has a unique relationship with one of the greatest characters in film: Bond, James Bond that is. Recently, we learned that to commemorate the 50th anniversary of the 1969 James Bond film, "On Her Majesty's Secret Service," Omega has announced a re-issue of its popular Seamaster Diver 300M Series.
In all functional ways, this new edition of the watch is identical to previous references in the Seamaster Diver 300M family. The Omega watch uses a 300-meter water resistant 42-mm steel case, with a 10 o'clock helium valve, curvy crown guards, and a solid caseback protecting the movement, Omega Caliber 8800. This Co-Axial Master Chronometer automatic movement is capable of a 55-hour power reserve and a magnetic resistance of 15,000 gauss. The unidirectional diving bezel framing the face of the watch is constructed from black ceramic, with a white enamel inlay for the diving scale. On the side of the case there is also an 18k yellow gold screwed-in plate, engraved X/7,007 noting the specific number of the watch limited to 7,007 pieces.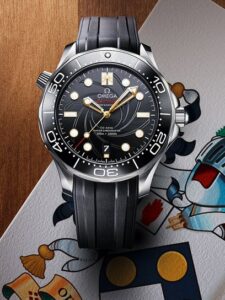 It's exciting at a technical level. It's a truly beautiful watch. And you can take it swimming! It will definitely survive your daily or weekly swim at one of New York City's many "bougie" gyms. Many of our clients are into their physical health, and a daily or weekly dip in the pool is part of their exercise routine. Still others are known to depart the environs of New York City in the Winter or early Spring for warmer climes, and to go scuba diving or snorkeling. This amazing Omega watch was built for the sea; you can take it with you on your vacation, and bring it back to New York City as a conversation-starter.
A Watch that Bonds
As for Bond, James Bond, the watch builds on the deep relationship between the Omega watch brand and the James Bond franchise. For James Bond fans, this new watch will likely come as an interesting and welcome addition to the canon of Bond and Omega's watchmaking history. Filled with obvious and surprising references to Agent 007, the reference walks the line between serious watchmaking and quirky novelty. And with an upcoming Bond film coming out next spring, for those with their eyes on the next release it's only a matter of time before the next Bond watch hits Omega boutiques.
Omega Watch Repair in New York, NY
With all that said, we hope you check out the new Omega Seamaster Diver 300M Series. However, you may have an older Omega watch that may need repair. The only tragedy for an Omega watch is to be left in a drawer, in a non-functioning state. Your Omega watch wants to get out to the streets of NYC. It wants to be on your wrist. It wants to be with you in the shower, the bathtub, the pool at Equinox, on your scuba vacation. Don't leave your Omega behind! Seriously, if you own an Omega, bring it in to us. We're known as one of the best Omega watch repair shops in New York City, and Ron will check your watch out from top to bottom. He can do both the routine repairs and maintenance necessary for your Omega, or he can repair any Omega that has "issues."
James Bond never failed, and neither should your Omega watch. We're excited about this new issue, and realize that the past is prelude to the future. We look forward to many close interconnections between Omega and the Bond franchise, and can't wait for the new watch and the new movie.