It's a strange time in New York City. We all know that. We're all focusing on staying safe, and working hard to get our great city back to normal. But in these dire times, we might look to the sky. We might be watching too much Netflix. We might dream of "Batman," coming to our rescue (or at least entertaining us while the real work of fighting the Pandemic goes on). Normalcy will return, hopefully sooner rather than later.
Among the things buzzing – the new so-called "Batman" by Rolex. The blue-and-black color combination on the bezel of this Rolex GMT-Master II led its fans to call it "Batman." The current version with a Jubilee bracelet and a new movement was introduced in 2019. Its predecessor with these same colors appeared in 2013, and was the first Rolex model with a two-tone ceramic bezel. This particular color combination did not exist previously. The first GMT-Master II of 1954 sported the blue-and-red 24-hour scale and was later called "Pepsi" because of this color combination. The more formal name of this incredible Rolex is "The Oyster Perpetual GMT-Master II in Oystersteel with a Jubilee bracelet." This model features a black dial and a blue and black Cerachrom bezel. Designed to show the time in two different time zones simultaneously during intercontinental flights, the GMT-Master has come to be recognized for its robustness and versatile appearance.
Rolex Watch History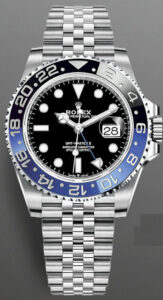 A little history about this Rolex watch. The original model was created in 1954, just as intercontinental flights were beginning between New York City, Europe and the far-flung cities of the World. The iconic PAN AM was the carrier of record. It was a time when flying was glorified and fun. And it was a time when people wanted to show off their status, with a two-toned watch that could show the time in two time zones. Today the GMT-Master II in steel is offered in two versions that differ only in the color of their bezels: the Pepsi and the Batman. At its beginning, in 1954, the bezel of the GMT-Master II was made of Plexiglas and the color and the white scale were printed on the underside. From 1959 to 2007, Rolex produced the bezel in aluminum, with the colors applied via an anodizing process. This was followed by a track made of zirconium oxide ceramic and with it, problems with the color. Monochromatic bezels were standard since two-tone tracks appeared to be a technical impossibility. But Rolex persisted in its research and found a solution for the first Batman by 2013. It developed and patented a process for the monobloc bezel that added a metallic salt on one half of the bezel prior to heat treatment in a kiln. The final colors were produced by sintering in a kiln at 1,600 degrees Celsius for more than 24 hours.
We're excited about this new Rolex, and we're also gladdened when a major watch maker like Rolex looks back to the great classics of the past and creates a new class for the future such as this watch. The intersection of history and style create the fun and style of all of these luxury watches. If you own a Rolex, please don't let it languish in a drawer. Wear it proudly. Show it off. Discuss it with your kids, your parents, your friends – whoever is in and around your life. These days, that might be posting a picture to Instagram or Facebook. It might be casually showing it off in a ZOOM video session.
Rolex Repair in New York, NY
If your Rolex isn't in good working order, or you need assistance with repairs or tune ups, reach out to our office. We're conveniently located in Midtown Manhattan. Please call us first to inquiry about Rolex repair in NYC, of course, as hours are subject to change. These days nothing is certain, except perhaps the beauty, style, and elegance of Rolex.