New York, NY – March 25, 2020. Ron Gordon Watch Repair, the New York City leader in OMEGA watch repair, is proud to announce a new post highlighting OMEGA's recent announcement of two new Aqua Terra models in two striking new colors, one maritime blue and the other dark military green. As the best-in-class watch repair shop in New York, New York, for OMEGA watches, Ron Gordon Watch Repair keeps a keen eye on OMEGA.
"OMEGA is one of our most popular watch brands, and we're excited to talk about this expansion in the brand's color palette," explained Ron Gordon, proprietor of Ron Gordon Watch Repair. "The two new colors add to other choices for the OMEGA Seamaster Aqua Terra collection. We know that people are in 'shut down' mode, but they can still browse the links to OMEGA in our post and dream about the new watches, which remain on sale online via OMEGA."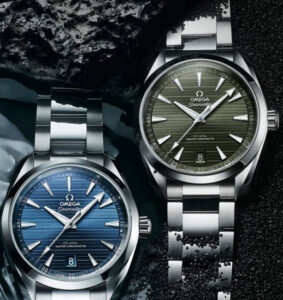 To read the new blog post visit https://www.rongordonwatches.com/2020/03/omega-bg/.  The post summarizes the official announcement from OMEGA which explains that two new dials equals four new combinations, as the latest 41 mm stainless steel watches come with a choice of steel bracelet or matching-coloured leather strap. Whichever colour they choose, customers can expect to receive a red card, as the driving force behind the dial is OMEGA's Master Chronometer Calibre 8900, certified at the industry's highest standard by the Swiss Federal Institute of Metrology (METAS). Secondarily, the post summarizes a more detailed analysis in WatchTime. Finally, those who already own OMEGA watches are encouraged to bring them in (after the shutdown ends) for an inspection, tune up, and (if needed) a possible repair. Many New Yorkers own OMEGAS that are older, either because they were purchased as vintage OMEGA, or have been owned for a number of years, or possibly are via an inheritance. Regardless of the age, Ron Gordon encourages folks to reach out and schedule an inspection and repair once New York City recovers from the Coronavirus pandemic.
In the meantime, the Shop encourages all New Yorkers to "stay safe" and follow all CDC and NYC guidelines with respect to Coronavirus.
OMEGA WATCH REPAIR IN NEW YORK NY: A CONVENIENT MIDTOWN LOCATION
The post continues by focusing on OMEGA repair. Perhaps a consumer has purchased a pre-owned OMEGA watch, perhaps Mom or Dad, Grandma or Grandpa gave the consumer. Perhaps the consumer inherited an OMEGA watch. Is it working? Is it keeping accurate time? Does it look good and polished? Perhaps it has scratches or blemishes. Perhaps the person is lucky enough to own a vintage OMEGA. Well, what should the NY NY OMEGA watch owner do? Bring it into Ron. Ron knows OMEGA watches as Ron Gordon Watch Repair is established as the best-loved, and best-in-class OMEGA watch repair not just in Midtown Manhattan but throughout New York City. Ron can give customers an estimate on repairs or a tune up. After all, there's no worse tragedy than a OMEGA watch sitting unloved and unused in a drawer. Don't let that happen! If a person is lucky enough to be an OMEGA owner, bring it in. Persons interested in learning more about OMEGA watch repair in New York City can also visit the website.
ABOUT RON GORDON WATCH REPAIR
Ron Gordon Watch Repair is conveniently located at 280 Madison Avenue at 40th Street in Midtown Manhattan, New York City. The company specializes in the service and repair of high quality, luxury, watches, both modern and vintage, and repairs watches for those who wear the very best brands. The expert and namesake is Ron Gordon.
Contact:
Ron Gordon Watch Repair
Tel. 212-896-8999
Web. https://www.rongordonwatches.com/