New York, NY – August 26, 2020. Ron Gordon Watch Repair, the New York City leader in TAG Heuer watch repair and service, is proud to announce a new blog post celebrating the recently held Indianapolis 500 and the brand participation of TAG Heuer. The speedway, the watch brand, and Ron Gordon Watch Repair are all "revving up" and returning to full business as the country copes with the COVID-19 Pandemic yet reopens for business. Ron keeps a keen eye on the watch industry, and the post celebrates the return of racing and watches to the public view.
"TAG Heuer has a strong association with automobile racing," explained Ron Gordon, proprietor of Ron Gordon Watch Repair. "We were very excited to see that the Indianapolis 500 was held and that TAG Heuer's tradition of releasing a Formula 1 continued. That brings excitement to the brand, and we always see a burst of enthusiasm as people who own older TAG Heuer watches bring them into us for service at our Midtown location."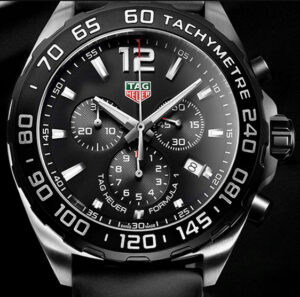 To read the new blog post, visit https://www.rongordonwatches.com/2020/08/tag-heuer-rev/. The post explains the background on TAG Heuer's relationship to automobile racing and also touches on the features of the latest Formula 1. It ends by advocating that any one who lives or works in New York City and is lucky enough to own a TAG Heuer should bring it into Ron for inspection, service, and possible repair. Ron Gordon Watch Repair is known as New York City's top-rated watch repair shop.
FINDING BEST-IN-CLASS TAG HEUER SERVICE IN NEW YORK CITY

Here is background on this release. The pandemic has obviously been very hard on New York City and on outdoor events. The Indianapolis 500, for example, was postponed from May to August. Obviously, having a crowded race and festival was not possible during the height of infection. But through hard work and perseverance, the Indianapolis 500 and its brand partners such as TAG Heuer watches, were able to pull off a safe and wonderful event! The event is an annual showcase for the watch brand as it releases a Formula 1 watch every year. Ron Gordon Watch Repair watched with excitement both the Indianapolis 500 and the announcement of the 2020 Formula 1 by TAG Heuer.
Another way that the race and its brand partnership help those who love Swiss watches is that it brings an awareness to the artistry and technology behind great brands. Every year, after the event, there is a burst of interest in the TAG Heuer brand, and Ron sees an influx of people who own older TAG Heuers that need to be repaired. There is no greater tragedy than a TAG Heuer watch that is sitting in a drawer in a nonfunctioning condition. These watches, like great automobile races, deserve to be viewed and appreciated.
ABOUT RON GORDON WATCH REPAIR
Ron Gordon Watch Repair is conveniently located at 280 Madison Avenue at 40th Street in Midtown Manhattan, New York City. The company specializes in the service and repair of high quality, luxury, watches, both modern and vintage, and repairs watches for those who wear the very best brands. The expert and namesake is Ron Gordon.
Contact:
Ron Gordon Watch Repair
Tel. 212-896-8999
Web. https://www.rongordonwatches.com/