OMEGA as a watch brand combines style and substance. The watches are best-in-class in terms of their functionality, and they have a long history of a focus on diving and the sea. One of their storied models is the OMEGA Seamaster. According to the brand, "In 1957, OMEGA introduced its Seamaster 300 – a watch designed specifically for divers and professionals who worked underwater. More than half a century later, the Seamaster 300 is reintroduced in a completely upgraded and enhanced form, prepared to equip a new generation of adventurers on land and in the oceans." That means we have half a century plus a few years of exciting OMEGA Seamasters.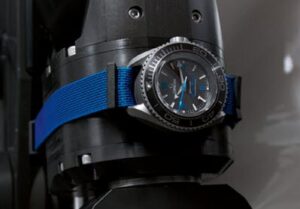 The Seamaster 300M is now twenty-five years old. Last year, OMEGA made a splash by issuing a new, more modernized version with better features and better functionality.This watch was introduced for the first time as a steel model with a varnished dial, an ETA-based Omega Caliber 2500 and a folding clasp with a divers' extension. The newer generation offers some incredible features such as the following: a laser-cut ceramic dial, the super-modern in-house 8800 movement and an improved clasp with additional quick-action extension. Unchanged, of course, are the skeletonized sword-shaped hands, water resistance to 300 meters, a helium-escape valve at 10 o'clock and a metal bracelet. The overall diameter of the watch was enlarged from 41 to 42 mm. You can learn more at the official website at https://www.omegawatches.com/watches/seamaster/seamaster-300/the-collection/product.
A WATCH FOR STYLE AND A WATCH FOR DIVING FUN
The most exciting thing, of course, about the OMEGA Seamaster 300M is obvious. This is a "dual purpose" watch. You can wear it as an everyday watch. It's comfortable. It looks great and its great not just for in-the-office but also for swimming (of course), biking, hiking and other outdoor sports. Plus you can just wear it as your daily watch. People will ask about it, and you can show off this incredible timepiece.
And, should you actually be a scuba diver, this watch is obviously built for the water. It is water resistant to a depth of three hundred meters. The scratch-resistant material and case also keep the watch looking great against both everyday wear and tear and any of the possible issues as you dive. So it's a two in one deal: an incredible watch for everyday and a scuba or diving watch should you so desire.
OMEGA REPAIR IN NEW YORK CITY
Check out this OMEGA watch online, but let's talk about something else: older, vintage OMEGA Seamasters. Many people inherit these watches, some collect them and buy them as vintage watches in and around New York City, and still others acquire them online. Then, they have a vintage OMEGA, maybe a few years maybe as old as fifty, and they need a full inspection. Fortunately, Ron Gordon Watch Repair offers a full inspection and repair service. In fact, we are known as the place to find OMEGA watch repair in New York City. Call or come by and let's share our passion for these incredible OMEGA watches!