OMEGA watches have long been connected to space exploration, including the 1960s-era missions to the moon. Indeed, it was an OMEGA Speedmaster that was part of the July 21, 1969, first walk on the moon. So much so that from then on the OMEGA Speedmaster became known as the "Moonwatch." One year later, in 1970, NASA awarded OMEGA the "Silver Snoopy Award," recognizing the watch's unique contributions to space exploration, as well as the Speedmaster's role in saving Apollo 13 through its accurate time-keeping necessary for the timing of rockets on the troubled return mission. After Apollo 13, NASA's Al Chop, the director of the Public Affairs Office for the Johnson Space Center, came up with the idea of a "Snoopy Award" to promote safety awareness. Snoopy was chosen as a fun "watchdog" to remind NASA engineers to put safety first. Thus the connection among NASA, OMEGA, and Snoopy was born.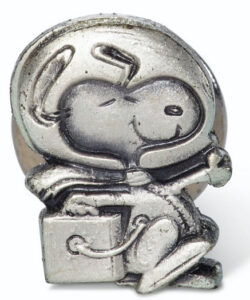 Fifty Years into the Future
Flash forward to 2020 – fifty years into the future. OMEGA watches, especially the Speedmaster, have become synonymous with space travel, speed, and the airline industry. OMEGA has thus introduced a "fiftieth anniversary edition" of the Silver Snoopy edition.  Says OMEGA: "To really capture the iconic design history of the Speedmaster, OMEGA has included a 42 mm case in stainless steel, inspired by the chronograph's legendary 4th generation style (famous for being the first watch worn on the moon)…On the caseback, Snoopy appears inside his Command and Service Module (CSM) on a magical hand. When the chronograph seconds hand is used, Snoopy takes a trip around the far side of the moon, which has been decorated on the sapphire crystal using a unique micro-structured metallisation. There is also an Earth disc, which rotates once per minute in sync with the watch's small seconds hand." Read more about it on the OMEGA site. The watch combines beauty, history, and accuracy – a fitting tribute to fifty years after Apollo 13, and fifty years after manned space flight.
OMEGA Watches: History, Style, Performance (and Repairs)
OMEGA watches, especially but not only the Speedmaster, thus bring together history, style, and performance. If you're lucky enough to own one, it may be a classic. You might even be lucky enough to own one of the original Speedmasters from during the time of space exploration. It was an exciting time. It was a positive time. It was a time when humankind "reached for the stars." Perhaps your father or grandfather was "into" space exploration and "into" OMEGA watches. But that means that your watch may be fifty years old! It's time for a tune-up. It may be time for a repair. If you own an OMEGA of any age, bring your watch into Ron Gordon Watch Repair as we are known as the best-in-class place to get your OMEGA watch service right here in New York City.
Let Ron inspect your OMEGA watch and give an estimate on any needed maintenance or repairs. Then, proudly wear your OMEGA Speedmaster on your watch and when or if asked, share your passion for OMEGA, for space exploration, and for Snoopy. "Eyes on the stars," as Snoopy says.