Buying a TAG Heuer isn't necessarily a practical decision. Nor is buying the latest Porsche 911 Carrera. The former can set you back around $6000; the latter, can cost up to $100,000. But it's not about the money, is it? It's about the style. As the top independent TAG Heuer service provider here in New York City, we keep a keen eye on everything TAG. We know the history and we keep up with the current events. Thus one of the exciting new announcement is the extension of the fifty year plus relationship between TAG Heuer and Porsche. The brands have announced a new "Carerra Chronograph Special Edition." As TAG states on its website –
An authentic alliance between two icons of design, quality, and innovation, teamed up to craft this TAG Heuer Carrera Porsche Chronograph special edition. A sporty design full of references to two of the world's favorite and most dynamic luxury brands, upholding both names' excellence without diluting the essence of either, with proud red highlights and the manufacture Heuer 02 movement beating away inside.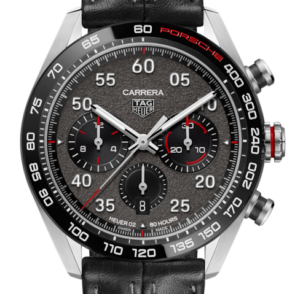 Shipping in February 2021
The new watch just started shipping this February, and we're excited to see it on the streets and wrists of New York City.  Both brands use the term "Carrera" (Spanish for "Race"), and both brands push the limits of luxury and technology. It's not rare for a customer to envelope himself inside the brand; the "coolness" of both a Carrera on his wrist, and a Carrera in his driveway.  According to the industry journal WatchTime:
The watch, available from February 2021, adopts the classic tricompax design of the TAG Heuer Carrera, which was famously revamped last year, along with a number of Porsche-inspired aesthetic details. Among the latter are the red Porsche inscription emblazoning the engraved black ceramic tachymeter-scale bezel; applied numerals in a font used on Porsche dashboards; an asphalt-pattern dial created especially for this inaugural timepiece; and an overall color scheme in the classic Porsche colors of red, black and gray. Recessed into the gray asphalt surface are three black subdials with red details and azurage centers — a 30-minute chronograph counter at 3 o'clock, a 12-hour counter at 9 o'clock, and a running seconds indicator at 6 o'clock, overlapped by a date window.
You can read more about the technical specs on either the TAG Heuer official website or in the WatchTime article.  As for technical specs, here are some of the most impressive. It's water resistent to 100 m (a given), has a fixed Bezel that is ceramic, and as for the movement – it's based on the Calibre HEUER02 Automatic as an automatic chronograph with in-house movement and an 80H power reserve, plus a balance frequency of 28800 (4Hz). At a diameter of 44 m, it will look great on your wrist even if you're not in the parallel Porsche Carrera.
Older Carreras Need Service, Too
But let's say you don't have the latest and greatest TAG Heuer Carrera. That's OK. That, in fact, may be better. Many people buy them used on the secondary market because they're looking for nostalgia and history. The two brands have a fifty year history, together, and we've even seen collectors that have many watches within the brand series. Other inherit the watch from a parent or grandparent, as these vintage TAG Heuer's not only hold their value over the years – they hold their mystique. Ditto for the Porsche's. Yes, you can buy the latest and greatest vehicle from the German  brand but there are also classics out there that hold their value (and their mystique).
But let's say you have an older TAG Heuer Carrera. What's your best course of action? Even if it seems to be properly working, your best course of action is to call us up and bring in your TAG Heuer for a thorough repair and inspection. Let Ron inspect it top to bottom and give you recommendations on not only service but any needed repairs. In that way, even an older TAG Heuer Carerra can seem "brand new." Then, when you wear the watch on your wrist you can show it off to other fans of the brand, or initiate novices in the passion and dynamism that brought these two great brands together. Fast cars and accurate timepieces? No one has brought them together better than TAG Heuer and Porsche!