Both men and women share a passion for luxury watches. Often, we talk a lot about the "sporty" watches worn by men to show off their sportiness, as when we discuss Rolex or TAG Heuer watches used in swimming and diving. Not to mention the long and storied tradition of luxury watch brands and the "sponsorships" of races. But this month, our scan was drawn towards the really beautiful "Tresor Collection" that was upgraded by OMEGA with some vibrant gold models. According to OMEGA, "The Trésor collection follows a long tradition of exquisite OMEGA watches for women. These models, however, have been created with a new generation in mind. While inspiration has been taken from the past, the collection is purposely forward-thinking in its design, exuding confidence with a truly modern touch." Thus, three models in gold sport an elegance that is incredible for formal occasions, or it can be worn to the office. For example, the Tresor Quartz 36 MM is crafted in 18K Moonshine™ gold and features 38 full-cut diamonds, which curve elegantly along each side. The white dial includes embossed Roman numerals and diamond-polished hands all in 18K Moonshine™ gold, while the crown features a single diamond, this time surrounded by a red ceramic flower made from five OMEGA logos. Others coming in shimmering reds and blues with Roman numerals on the dials and often diamonds along the side. Many women choose more than one, for example having a gold one for special occasions and a red or blue one for their workaday lives. For example, there's the De Ville Tresor Quartz 36 MM in Moonshine gold on leather strap with a red background. All of the new OMEGA watches have a 5-year warranty repair policy.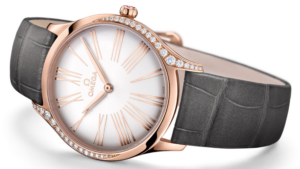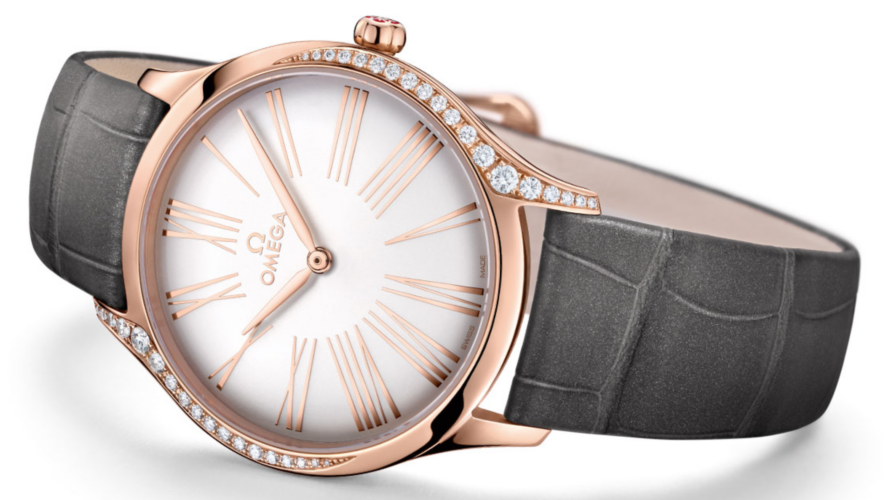 So that's the news from OMEGA. Some new, incredible gold watches for women. So exciting. So luxurious. So much style in such a vibrant package. We're eager to see these on the arms of our fellow New Yorkers.
VINTAGE OMEGA REPAIR IN NEW YORK CITY
But what about OMEGA watches for women that are older than five years? Many women inherit an OMEGA watch from their mother or grandmother. Perhaps it was a gift given by a grandfather or other male figure… perhaps not. But regardless, it was (and is) an incredible heirloom and gift. Or, many women just have an OMEGA that is older than five years and thus outside of any warranty. The older the watch gets… in many cases the more valuable, the more historic, the more incredible the OMEGA watch becomes. Many women bring their OMEGA watches into our New York City watch repair shop for an inspection, tune up, and repairs as needed. You want to wear that incredible OMEGA and we want you to wear it. But you want that OMEGA to be working in tip-top shape, so bring it in for inspection and possible repair.
Should you be a young man (or an old one) and perhaps you are going to gift an heirloom OMEGA watch to the woman in your life, then another idea is to bring in that OMEGA before you gift it. That way, you'll be giving her not only an heirloom or vintage OMEGA but a functional, working, in-great-shape OMEGA watch. We're known as the best OMEGA repair shop in New York City, so please give us a call. Let us share the beauty of these OMEGA watches with you and yours!