New York, NY – March 24, 2021. Ron Gordon Watch Repair, the New York City leader in Rolex watch repair, is proud to announce a new post on so-called Rolex 'Dive' watches. The post overviews some of the history of the Rolex brand and presents a New York angle on the popular brand among New York City residents.
"Rolex is one of the best watch brands and certainly one of the most popular brands we see here as we evaluate, service, and repair many Rolex watches in our watch repair shop," explained Ron Gordon, proprietor of Ron Gordon Watch Repair. "Our new post overviews a unique subtype of Rolex, the Rolex 'Dive' watches, which are more on the sporty side. Many New Yorkers are deep sea divers on vacation but like to share their passion for Rolex watches by wearing these incredible timepieces on a day to day basis."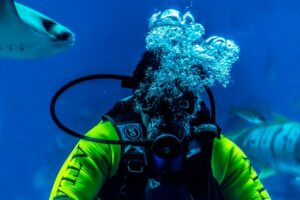 Rolex watch lovers who want to read the blog post in full can visit https://www.rongordonwatches.com/2021/03/taking-a-dive/. The post cites several resources on the Internet to learn more about the history of Rolex Dive watches. It then explains some of the trends in New York City that Ron Gordon Watch Repair observes vis-a-vis the Rolex brand. First and foremost, the post observes that Rolex is the most popular brand among luxury watches, and most people (though not all) perceive it as a flashy, fancy luxury brand watch – suitable for the Opera, business, or Carnegie Hall. But, second, Rolex has some incredible watches such as its 'Dive' series that focus more on sports. Underwater deep sea diving is one such sport and, historically, the brand has been very active among deep sea divers and the diving community. Finally, the post points out that many New Yorkers wear the watches in their workaday lives. The 'Dive' series from Rolex gives the opportunity to start conversations about watches, about diving, and about the sportiness of the Rolex brand.
The post references its sources on the Internet and points those readers who want to dig deeper into the history of Rolex. It concludes by reminding Rolex watch owners that when they are looking for one of the best, if not the best, Rolex watch repair shops in New York City, they should consider Ron Gordon.
ROLEX WATCH SERVICE IN NEW YORK CITY

Furthermore, the post explains that Rolex is arguably the most popular brand brought into the watch repair shop. The style of a Rolex says that one has "made it," and thus it is a popular watch with New Yorkers who love athletics, watch history, and accurate time keepers.  Readers are pointed to the New York City Rolex watch repair page at https://www.rongordonwatches.com/rolex-repair/ and encouraged to call in and book an appointment to have their precious Rolex inspected, tuned up, and possibly prepared by Ron Gordon. The watch repair shop's convenient Midtown location (https://www.rongordonwatches.com/midtown-watch-repair/) makes it easy to drop a watch of to and from work in Midtown New York City.
ABOUT RON GORDON WATCH REPAIR
Ron Gordon Watch Repair is conveniently located at 280 Madison Avenue at 40th Street in Midtown Manhattan, New York City. The company specializes in the service and repair of high quality, luxury, watches, both modern and vintage, and repairs watches for those who wear the very best brands. The expert and namesake is Ron Gordon.
Contact:
Ron Gordon Watch Repair
Tel. 212-896-8999
Web. https://www.rongordonwatches.com/