We follow TAG Heuer watches intensely from our watch repair shop here in New York City. TAG Heuer is one of our favorite brands. We see a lot of new and old TAG Heuers. Thus we were VERY excited at the news of a TAG Heuer / Porsche partnership. The match of a fine watch with an incredible car just revs up the buzz around each brand.Here's the back story. In February 2021, TAG Heuer announced the latest in on-going collaborations between the two brands. The form was a new watch, the TAG Heuer Carrera Porsche Chronograph Special Edition. What's new here is that the two companies literally worked together to bring out this incredible chronograph.  According to the brand announcement, "An authentic alliance between two icons of design, quality, and innovation, teamed up to craft this TAG Heuer Carrera Porsche Chronograph special edition. A sporty design full of references to two of the world's favorite and most dynamic luxury brands, upholding both names' excellence without diluting the essence of either, with proud red highlights and the manufacture Heuer 02 movement beating away inside." The technical specifications of the watch are best-in-class (not surprising from brands such as TAG Heuer and Porsche). For example, the bezel includes a tachymeter scale and a Porsche inscription in red. The dial's asphalt effect, created especially for this watch, perfectly expresses a passion for the road, while Arabic numerals suggest the numbers on the dashboard of a fine Porsche automobile. It has a 44 mm case and soft, leather strap which again has colored stitching that emulates the Porsche brand. It sports an 80 hour (!) power reserve.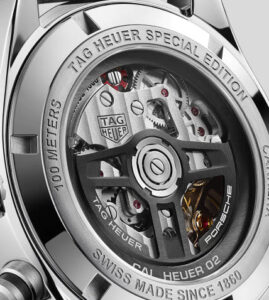 Now New York City is not really a "car" town. Many of our clients, like many New Yorkers, do not own cars of any type, let alone fancy sports cars like Porsches. That said, however, many do have a passion for fast cars and some have houses outside of Manhattan where they park their Porsches and other fine German or European cars. Plus there is what called "aspirational" brands. Many of our clients – especially of TAG Heuer watches – are men (but also women), on the younger side, who live and work in New York City. Guys and gals who are "on their way up" the financial ladder, so they aspire to key brands. TAG Heuer is the kind of watch that showcases this entrepreneurial spirit; the Porsche brand communicates guys and gals who have "made it," in terms of having the financial wherewithal to purchase one of the top cars (and most expensive cars) in the world. Secondarily, brands like TAG Heuer and Porsche communicate best-in-class engineering and best-in-class style. They are both beautiful AND functional. So we are very excited to see this new type of partnership between two iconic European brands.
TAG HEUER REPAIR IN NY NY
It's always incredible to follow the zigs and zags of the latest TAG Heuers out there. The brand has so many innovative design features, plus they keep up-to-date on the technology as well. Not to mention brand endorsements by celebrities, racing, etc. Due to the cost of the watches, however, many fans go into the used TAG Heuer marketplace and/or inherit them from a Mom or Dad (sometimes as well as a gift). They then need a "tune up" or "inspection" of their TAG Heuer watch. Fortunately, we're known as the best place in New York City to get TAG Heuer repair and service. If you own a "vintage" TAG Heuer, or any watch that is outside of the warranty period, bring it into us for an inspection. And, if you're lucky enough to get your hand on the new Let Ron now only showcase his passion for TAG Heuer watches but also give you an estimate on a tune up and/or repair to your TAG Heuer Carrera Porsche Chronograph Special Edition, be sure to bring it buy and show it to us.