New York, NY – July 24, 2021. Ron Gordon Watch Repair, the New York City leader in TAG Heuer watch repair, is proud to announce a new post on the exciting partnership between TAG Heuer and Porsche. The brand has announced the TAG Heuer Carrera Porsche Chronograph special edition, which is a watch that combines the brand iconography of each.
"Nothing is cooler than fast Porsches and accurate TAG Heuers, and with the new announcement, TAG Heuer really has revved up excitement around each brand," explained Ron Gordon, proprietor of Ron Gordon Watch Repair. "With shipments just beginning, we can't wait to see one in our shop and on the wrists of New York City residents. That said, we have many vintage and older TAG Heuers that come into our New York City watch repair shop for inspections, repairs, and tune-ups."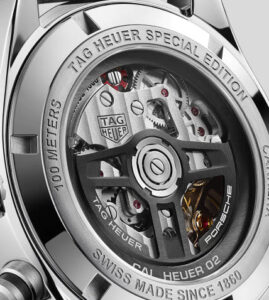 TAG Heuer fans who want to read the blog post in full can visit https://www.rongordonwatches.com/2021/07/tag-porsche/. The post details the announcement. According to the brand announcement, "An authentic alliance between two icons of design, quality, and innovation, teamed up to craft this TAG Heuer Carrera Porsche Chronograph special edition. A sporty design full of references to two of the world's favorite and most dynamic luxury brands, upholding both names' excellence without diluting the essence of either, with proud red highlights and the manufacture Heuer 02 movement beating away inside." The technical specifications of the watch are best-in-class (not surprising from brands such as TAG Heuer and Porsche). For example, the bezel includes a tachymeter scale and a Porsche inscription in red. The dial's asphalt effect, created especially for this watch, perfectly expresses a passion for the road, while Arabic numerals suggest the numbers on the dashboard of a fine Porsche automobile. It has a 44 mm case and soft, leather strap which again has colored stitching that emulates the Porsche brand. It sports an 80 hour (!) power reserve.
The post goes into the historic relationship between the two brands and has pointers to more in-depth articles and videos across the Internet. Secondarily, the post explains that many people own vintage, inherited, or pre-owened TAG Heuer Carreras that they have either bought on the secondary market and/or been given as part of a family inheritance. These older TAG Heuers – just like vintage Porsches – tend to hold their value. All of this adds in a sense of history as well as a sense of style to the brand relationship.
The post references its sources on the Internet and points those readers who want to dig deeper into the history of TAG Heuer. It concludes by reminding TAG Heuer watch owners that when they are looking for one of the best, if not the best, TAG Heuer watch repair shops in New York, New York, they should consider Ron Gordon Watch Repair.
TAG HEUER WATCH SERVICE IN NEW YORK CITY

Furthermore, the post explains that TAG Heuer is one of the most popular brands brought into the watch repair shop. The style of a TAG says that one has "made it" just as the "Porsche" brand does. Thus, it is a popular watch with New Yorkers who love fast cars, fine wines, and accurate time keepers.  Persons reading the blog post are pointed to the New York City TAG Heuer watch repair page at https://www.rongordonwatches.com/tag-heuer/ and encouraged to book an appointment to have their precious TAG Heuer inspected, tuned up, and possibly prepared by Ron Gordon.
ABOUT RON GORDON WATCH REPAIR
Ron Gordon Watch Repair is conveniently located at 280 Madison Avenue at 40th Street in Midtown Manhattan, New York City. The company specializes in the service and repair of high quality, luxury, watches, both modern and vintage, and repairs watches for those who wear the very best brands. The expert and namesake is Ron Gordon.
Contact:
Ron Gordon Watch Repair
Tel. 212-896-8999
Web. https://www.rongordonwatches.com/