Here at Ron Gordon Watch Repair we are watch fans (not surprisingly) and fans of James Bond movies (not surprisingly), and really big fans of the watches in James Bond movies (really, really not surprisingly). Thus, when they released the current film in the franchise, "No Time to Die," and made a pun on time – well, we really couldn't resist. The movie sets a number of firsts for James Bond flicks among them that it was the first to have sequences shot with 65mm IMAX film cameras and the first with a budget in excess of $250 million. That's a a lot.  Filming took place in the Cairngorms National Park Area in Scotland.  Currently, it enjoys a 7.6/10 on IMDB, an 84% on Rotten Tomatoes, and a 68 on Metacritic. Pretty impressive for a film in the franchise that is now over sixty-five years old, and eligible for social security!
Coupled with the latest film is an incredible watch: the Omega Seamaster Diver 300M 007 Edition. According to the brand, "OMEGA worked closely on the development of the Bond watch with Daniel Craig and the James Bond filmmakers. This non-limited watch has been built with military needs in mind and the final design was influenced by Daniel's own experience as 007." What does "non-limited" mean? Well, in a certain sense it means affordability, which means that the watch will get out there and see and be seen among the watch cognoscenti as well as fans of James Bond.  You can watch a video introduction on YouTube that now tops over fifty-three million views, indicative of the twin popularity of the watch and the movie.  Here are some of the features of this timepiece: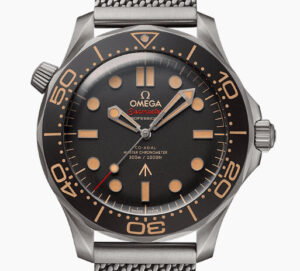 Lightweight and robust – Grade 2 Titanium has been used for the 42 mm case and titanium mesh bracelet, making this watch particularly strong and light. Perfect for an undercover agent. It is also available on a striped NATO strap.
Dark and vintage – The "tropical" brown dial and bezel ring are both made from aluminum. These elements have been given a classic look, thanks to the vintage Super-LumiNova, which fills the diving scale, blackened hands and indexes.
Anti-magnetic Power – The innovation continues inside the watch with the OMEGA Co‑Axial Master Chronometer Calibre 8806. The movement and watch have achieved the industry's highest certified standard of precision, performance and magnetic resistance.
Choice – The watch can be chosen on a titanium mesh bracelet with its innovative adjustable buckle, or on a striped NATO strap in dark brown, grey and beige, with 007 engraved on the loop. Each piece is delivered inside an exclusive brown fabric pouch.
The film marks twenty-five years of cooperation between OMEGA and the James Bond Franchise, cooperation which began with GoldenEye in 1995. Priced at under $10,000, the watch is relatively affordable and will be keen to hold its value as it benefits from both the OMEGA and Bond brands going into the future.
OMEGA Repair in New York City
We should know. We see quite a few older OMEGA watches here in our Watch Repair Shop. We're known as one of the best, if not the best, places to secure OMEGA watch repair in New York City. New Yorkers love fashion and many love the Bond franchise. Thus, since the 1995 collaboration, we've seen more and more of these James Bond-inspired OMEGA watches come into the shop. A few people bought the watches when they were young – many others received them as a gift from a mother, dad, or grandparent who recognized a young man's fascination with everything Bond. But time, as they say, waits for no man, and so over the years, these earlier edition OMEGA watches are now in need of inspection, tune-ups, and repairs. If you're lucky enough to own a James Bond-inspired OMEGA, please contact the shop for recommendation. Then, go to the theater, enjoy the new movie and – if possible – by the latest edition or for a young person who can grow up with James Bond.