New York, NY – February 23, 2022. Ron Gordon Watch Repair, the New York City leader in TAG Heuer watch repair, is proud to announce a new post on the exciting commemorative celebration of the TAG Heuer Autavia, now sixty years old. First introduced in 1933 as a timepiece for cars and planes, the watch was launched in the early 1960s as a wrist watch format. Today – in 2022 – the brand is celebrating the 60th anniversary with a new collection of Autavia by TAG Heuer.
"Our customer base is New Yorkers who love technology – that is, often, fast cars, best-in-class watches, and the symbiosis among cars, planes, and watches," explained Ron Gordon, proprietor of Ron Gordon Watch Repair. "The announcement of the 60th anniversary collection of the Autavia literally sent chills down our spines, as we are always excited about the new additions to the collection, plus the interest it spurs in older, vintage versions. We see quite a few TAG Heuer watches as folks look for a best-in-class TAG Heuer service center right here in Midtown, New York City."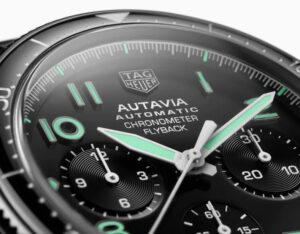 TAG Heuer watch fans who want to read the blog post in full can visit https://www.rongordonwatches.com/2022/02/autavia/. The post summarizes the new collection and explains the storied history of TAG Heuer vis-a-vis both the automobile and the aeronautics industry. Many TAG Heuer fans are quick to point out that TAG Heuer has truly "earned its chops" when it comes to being a brand that truly has a historical relationship with fast cars, fast airplanes, and racing. In fact, as the post explains, "The first "Autavia" was thus constructed for automobile and/or aircraft instrument panels. It was then re-imagined in 1961 by the brand, bringing what was originally a timepiece for the dashboard into, or rather on to, the wrists of many men dreaming of careers in automobile or aircraft racing."
TAG HEUER WATCH SERVICE IN NEW YORK CITY
The post continues explaining that in addition to this exciting news, a new collection of TAG Heuer Autavia is a time for a personal inventory. Many residents of New York City already own a vintage TAG Heuer. Perhaps they bought one. Or perhaps they inherited a 1960s-era TAG Heuer from Grandpa or Dad. Many men pass down their very expensive, highly valued, and collectible TAG Heuer watches across the generations. Thus, they have both a "family history" (as to who originally purchased the watch and passed it down) plus a brand history. The watches are thus collectibles and family heirlooms. This brings a new problem, however: the repair and service of the watch. Many persons look for a best-in-class TAG Heuer service center in New York City, one that can handle vintage watches or older versions. They then discover Ron Gordon. Ron shares his passion for TAG Heuer one watch at a time. Like the brand, Ron has the "chops" to prove he is passionate about the brand, having repaired many, many TAG Heuers and brought them back to tip-top shape. Interested persons are thus urged to not only educate themselves about the brand but to reach out for a consultation with Ron Gordon Watch Repair about potential watch service and repair.
ABOUT RON GORDON WATCH REPAIR
Ron Gordon Watch Repair is conveniently located at 280 Madison Avenue at 40th Street in Midtown Manhattan, New York City. The company specializes in the service and repair of high quality, luxury, watches, both modern and vintage, and repairs watches for those who wear the very best brands. The expert and namesake is Ron Gordon.
Contact:
Ron Gordon Watch Repair
Tel. 212-896-8999
Web. https://www.rongordonwatches.com/