The history of modern watches is interwoven with a passion for technology. So it goes as well for automobiles; fast cars, technically savvy racecar drivers, and the voyeurism of "regular men" and "regular women" who vicariously experience the flash of passion on the racetrack. Modern Western culture has a "thing" for technology. You might say we are technologically obsessed. Technology is as much beauty as it is efficiency. It's not surprising, therefore, that going back – going way, way back – the big Swiss watch brands have marketed their watches in symbiosis with fast cars. TAG Heuer, for example, has announced its 60 year celebration of the storied Autavia from TAG Heuer. In fact, this is TAG Heuer's oldest collection and is billed as now its "most high-performance creation." As the brand explains, "The Autavia forges its own path. From 1933 to 1963, it was the essential dashboard counter of airplanes and rally cars."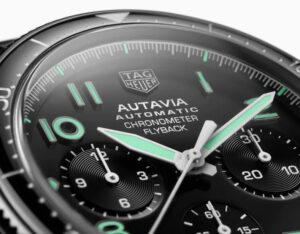 The name, "Autavia," is a contraction of "automotive" and "aviation," thus showing the relationship that the brand has had to both of these technologies and to sport as expressed in both of these. Fast cars. Fast planes. Fine wines. And incredible watches. That is the history of TAG Heuer, and that is the history being celebrated at 60 years. We see a lot of TAG Heuers here in our New York City watch repair shop (we're located in Midtown); quite a few people have collected them over the years, some have purchased vintage TAG Heuers, and/or inherited them from Dad or Grandpa. Thus there is a family history to many TAG Heuer watches that we see in our shop. A watch, you see, is more than just a timepiece. It's a bit of history. Your history. Your family's history. And, of course TAG Heuer's history.
Reimaging the 1930s and the Birth of Autavia
Returning to the history of TAG Heuer, you have to imagine what it was like in the early 1930s, which was – more or less – the dawn of automobile racing. The first "Autavia" was thus constructed for automobile and/or aircraft instrument panels. It was then re-imagined in 1961 by the brand, bringing what was originally a timepiece for the dashboard into, or rather on to, the wrists of many men dreaming of careers in automobile or aircraft racing. And, of course, worn by many real-world car racing heroes – Jo Siffert, Jochen Rindt, Derek Bell, Jacky Ickx, Emerson Fittipaldi, Clay Regazzoni, Mario Andretti, and Gilles Villeneuve come to mind. Indeed, today TAG Heuer remains in car racing – being the official partner of the Red Bull Formula 1 team as well as the timekeeper for races across the world.
Finding a Watch Shop to Repair or Tune Up Your TAG Heuer in New York, NY
We're very excited about this 60 year anniversary. It's a good time for you to snag a brand-new TAG Heuer Autavia. Or, if you've inherited a vintage TAG or perhaps purchased a vintage TAG Heuer Autavia here in New York City, please bring it into the shop for an inspection and potential TAG Heuer watch repair. Let Ron examine your TAG Heuer, recommend any needed repairs, and tune it up to the highest performance. You want that TAG on your wrist. You want to showcase your passion for fast cars and timely watches, and participate (at least vicariously) in the rebirth and commemoration of one of the most storied brands in watch and sports history: TAG Heuer.