OMEGA is one of the more fun watches to collect. We are big OMEGA watch fans, and we see a lot of OMEGA watches for watch repair here in New York City. Of course, among the most famous OMEGA watches is the OMEGA Moon watch. Priced at around $6,000 new, it's not exactly cheap but it is an entry-level watch for many New Yorkers. We do see quite a few "vintage" OMEGA watches as well, that is, watches that have been inherited or passed down across generations. Or, folks buy vintage OMEGA watches and bring them in for inspection, tune-up, and repairs as needed.
If you're new to luxury watches, we have a few tips for you. First, check out WatchTime. It's the main blog on everything watch, and we read it religiously. We read a recent article on 5 "affordable" OMEGA watches for those new to watches.  Here are the watches that they list as affordable "starter" watches for folks interested in the OMEGA brand –
OMEGA Speedmaster Moonwatch Professional
OMEGA Constellation Co-Axial
OMEGA Seamaster Aqua Terra Master Co-Axial
OMEGA Seamaster Planet Ocean 600 M Master Chronometer
OMEGA De Ville Prestige
It's a wonderful list of some of the best starter watches from the OMEGA brand. The article summarizes some of the history of each watch, and gives basic pricing information. As an additional tip, if you're looking to buy an OMEGA watch, or have already purchased one, bring it into Ron for an inspection, tune-up, and repairs (if needed). In fact, with a spend at several thousand dollars, many smart New Yorkers arrange for Ron to inspect the watch BEFORE purchase at a reasonable fee. In this way, you know what you're getting into. Beyond the official OMEGA watch website at https://www.omegawatches.com/, here are a few other ideas. Don't miss their WatchFinder, which is an online tool for browsing and configuring your "perfect" OMEGA.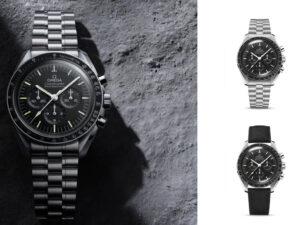 For history buffs, there's an excellent online "history museum," where you can brush up on the history of this storied brand, and then after browsing those photos, go to the "real" museum website https://www.citedutemps.com/ which is located in Switzerland. It is located at Nicolas G. Hayek Strasse 2, 2502 Biel/Bienne, Switzerland. You can also view the OMEGA watch shop in New York City, here. It's fun to browse the "new" watches and then make a decision as to whether you want to purchase a "new" OMEGA or a "vintage" OMEGA. You can also view and book an appointment, here.
OMEGA WATCH REPAIR IN NEW YORK, NY
OK, so you've purchased on OMEGA watch, now what? Well, if it's new, of course you'll have a warranty repair period, and you can use authorized OMEGA repair services. If it's not new, however, you'll want to investigate options for OMEGA watch repair. Ron Gordon is known as one of the savviest "certified" OMEGA repair shops not just in New York City but throughout New York, including Brooklyn, Queens, Long Island, and other areas in and around New York, NY. If you've inherited or acquired a pre-owned OMEGA, you definitely want to bring it into Ron for an inspection, tune-up, or even repair. You've got an OMEGA watch, so you want to wear it after all! Don't let it sit in a drawer. Don't let it keep less-than-perfect time. Do bring it in to Ron for analysis.