New York, NY – April 21, 2022. Ron Gordon Watch Repair, the New York City leader in TAG Heuer watch repair, is proud to announce a new post on exciting additions to the TAG Heuer watch family. The brand is celebrating its 60th anniversary and recent announcement include the so-called "TAG Heuer Glassbox." Watch collectors are snapping up these limited edition watches, and Ron Gordon is drawing attention not only to the exciting new brand additions but to the storied history of this classic watch.
"We monitor the TAG Heuer watch brand closely, and it is exciting to see the celebrations around the 60th anniversary," explained Ron Gordon, proprietor of Ron Gordon Watch Repair. "Over the next few years, we expect to see a few of these increedible TAG Heuer watches in in our watch repair shop, but this is a good opportunity to remind our customers and readership that we service TAG Heuer watches as a certified TAG Heuer watch repair shop."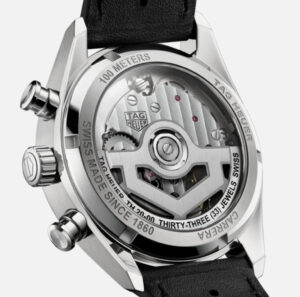 TAG Heuer watch lovers can visit https://www.rongordonwatches.com/2023/04/tag-heuer-60/ to read the new post in its entirety. The redesigned Tag Heuer Carrera Chronograph, the 39mm Glassbox, is a faithful reinterpretation of the Carrera 2447 SN, with a sleek and modern case design that pays homage to the classic Carrera design. The watch features a black opaline finish dial, with contrasting sub-dials and a date display, and has a glass case back for a clear view of the movement. The TH20-00 model is another popular choice, with a black alligator leather strap and a TAG Heuer Calibre Heuer 02 movement that provides up to 80 hours of power reserve. Both watches showcase the brand's dedication to quality and precision, making them great choices for watch collectors and enthusiasts. For those who own antique Tag Heuer watches, it is important to have them inspected and serviced by a professional, and this expert watch repair shop in Manhattan, New York, encourages owners to bring their watches in for inspection and potential repair. A properly serviced Tag Heuer watch is not only a testament to its durability, but also a statement piece that can be enjoyed for years to come.
TAG HEUER WATCH REPAIR IN NEW YORK CITY
The post continues explaining that in addition to this exciting news, a new watch by TAG Heuer is always a time for a personal inventory. Many residents of NY NY, already may own an old, used, or vintage TAG Heuer. TAG Heuer watches are highly valued and collectible items that are often passed down through generations, carrying with them both a family and brand history. As a result, they are not just watches, but also family heirlooms and collectibles. However, owning an antique or vintage TAG Heuer watch brings a new problem: the need for repair and service. This is where Ron Gordon Watch Repair comes in (see https://www.rongordonwatches.com/tag-heuer/). As a certified TAG Heuer watch repair technician, Ron shares his passion for TAG Heuer watch repairs, one watch at a time. With extensive experience in repairing and restoring many TAG Heuer watches, he has the history and expertise to provide best-in-class repair services in New York City, even for vintage or older versions. It is important for watch owners to not only educate themselves about the brand, but also to regularly service and repair their watches. By doing so, they ensure that their TAG Heuer watch remains in top shape and continues to function properly for years to come. Whether you own a TAG Heuer watch for its functionality or as a collectible, it's important to have it regularly serviced and repaired by a professional like Ron Gordon. So, reach out for a consultation with Ron Gordon Watch Repair to ensure your TAG Heuer watch remains a statement piece and a treasured family heirloom.
ABOUT RON GORDON WATCH REPAIR
Ron Gordon Watch Repair is conveniently located at 280 Madison Avenue at 40th Street in Midtown Manhattan, New York City. The company specializes in the service and repair of high quality, luxury, watches, both modern and vintage, and repairs watches for those who wear the very best brands. The expert and namesake is Ron Gordon.
Contact:
Ron Gordon Watch Repair
Tel. 212-896-8999
Web. https://www.rongordonwatches.com/