We keep  a keen eye on everything OMEGA. It's one of our favorite brands, occupying a stylish but affordable alternative to Rolex and TAG Heuer. One of their latest announcements is of the Aqua Terra Shades. Watch-loving friends, prepare to be blown away by the magnificent timepiece that is the Omega Aqua Terra! Get ready to dive into style and adventure with this remarkable watch.
STYLE
Let's talk style, my fellow aficionados. The Omega Aqua Terra exudes elegance and sophistication with its sleek design and impeccable craftsmanship. It's a statement piece that demands attention wherever you go, whether you're swimming, scuba diving, or simply strutting your stuff in town. This watch is not just a timekeeper; it's a fashion statement that showcases your impeccable sense of style to the world.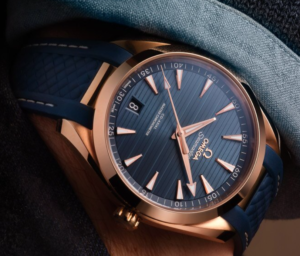 But wait, there's more! The Omega Aqua Terra boasts advanced water-proof technology, allowing you to take your timepiece to depths of up to 150 meters. Dive into the depths of the ocean or frolic in the pool without a worry, knowing that your watch is as adventurous as you are.
And for the man in your life, there's the "Gents Selection." The Aqua Terra Gents Collection from Omega is all about combining style and functionality in one stunning package. With its sleek design and impeccable craftsmanship, this watch is a true showstopper. Whether you're heading to the office, meeting friends for a night out, or even exploring the underwater world, the Aqua Terra Gents Collection has got you covered.
But it's not just about looks and water resistance. Omega is a brand that's known for its quality and heritage. Investing in an Omega timepiece, like the Aqua Terra Gents Collection, means you're getting a watch that's built to last. These watches hold their value and can even become cherished family heirlooms.
So, if you're ready to take your watch game to the next level, head overcheck out the Omega Aqua Terra Gents Collection. Trust us, you won't be disappointed!
INVESTMENT POTENTIAL
Now, let's talk investment potential. The Omega brand has a legacy of excellence and is highly regarded in the watch-collecting community. Investing in an Omega timepiece, like the Aqua Terra, is not only a testament to your love for horology but also a wise financial decision. These watches have a proven track record of retaining and increasing their value over time, making them cherished heirlooms and sought-after collector's items.
So, my fellow watch enthusiasts, don't miss out on the opportunity to own the Omega Aqua Terra. Visit the provided URL and immerse yourself in the world of horological magnificence. It's time to make a splash with style, durability, and investment potential that will be treasured for years to come.
REPAIRING AND SERVICING YOUR OMEGA WATCH
Just like a fine automobile, your beloved OMEGA watch requires regular service and repair to ensure it stays in pristine condition. That's right, folks, taking care of your timepiece is of utmost importance if you want it to keep ticking flawlessly for years to come. Luckily, there are experts like Ron Gordon, who can analyze and update your watch with utmost care and precision. Visit our information page, specific to OMEGA watch repair in New York, NY.
Why is regular servicing and repair crucial, you ask? Well, think of it this way: your watch contains intricate mechanisms and delicate components that work together harmoniously to keep time. Just like an engine needs oil changes and tune-ups, your watch needs attention to maintain its accuracy and longevity.
By entrusting your OMEGA watch to an expert like Ron Gordon, you can rest assured that your timepiece will receive the care it deserves. Ron Gordon's team has the expertise to diagnose any issues, perform necessary repairs, and conduct regular maintenance to keep your watch running smoothly.
Don't wait until something goes wrong! Regular servicing and repair can prevent potential problems and ensure that your OMEGA watch remains a reliable companion on your wrist. Plus, with the convenience and efficiency offered by Ron Gordon, taking care of your timepiece has never been easier.
So, fellow watch enthusiasts, make it a priority to schedule regular service and repair for your OMEGA watch. Trust in the expertise of Ron Gordon and our team to keep your cherished timepiece in tip-top condition, allowing you to enjoy its precision and beauty for years to come.