New York, NY – June 21, 2023. Ron Gordon Watch Repair, a best-in-class watch repair service in New York City at https://www.rongordonwatches.com/, is thrilled to announce the latest addition to its blog, dedicated to keeping Rolex watch lovers up-to-speed with the latest developments in the watch industry. With a special focus on the prestigious Rolex brand, Ron Gordon Watch Repairs aims to provide valuable insights and information to the passionate community of watch enthusiasts.
The world of watches is ever-evolving, and staying informed about the latest trends, advancements, and historical milestones is crucial for watch aficionados. Ron Gordon Watch Repairs recognizes this need and is committed to being a reliable source of watch-related knowledge. The newly launched blog post covers the latest developments from the iconic Rolex brand, specifically the commeration of the 100th anniversary of the "24 Hours of Le Mans" motor race and the parallel "Rolex Cosmograph Daytona" celebrating this milestone.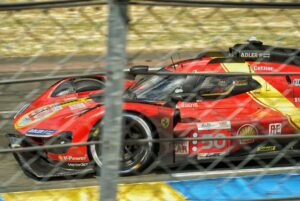 NEW DEVELOPMENTS FROM A LEGENDAY WATCH BRAND: ROLEX
One particular highlight of the blog is the emphasis on the legendary Rolex brand (https://www.rolex.com/). Rolex has long been regarded as a symbol of excellence, precision, and enduring style. As part of this exciting announcement, Ron Gordon Watch Repairs is delighted to offer its expertise in servicing vintage Rolex watches (https://www.rongordonwatches.com/rolex-repair/). With years of experience and a deep understanding of these timepieces, the skilled watch repair team at Ron Gordon Watch Repairs can restore vintage Rolex watches to their former glory, ensuring they continue to be cherished heirlooms for generations to come.
In celebration of the 100th anniversary of the historic 24 hours of Le Mans Race, Ron Gordon Watch Repairs is thrilled to feature a special article on its blog at https://www.rongordonwatches.com/2023/06/100-years/. This iconic endurance sports car race is synonymous with the spirit of determination, precision, and achievement, qualities that resonate with the essence of Rolex. The corresponding Rolex watch associated with this prestigious event will also be highlighted, showcasing the brand's longstanding partnership with motorsports.
Ron Gordon, the owner of Ron Gordon Watch Repairs, expressed his enthusiasm for the new post, and its focus on Rolex: "I've always had a passion for Rolex watches. They embody the perfect blend of exceptional craftsmanship, timeless design, and unparalleled functionality," explained Mr. Gordon. He continued, "Our new blog post allows us to share our knowledge and expertise with fellow watch lovers, and I'm thrilled to be able to service vintage Rolex watches as part of our commitment to preserving horological heritage."
Watch enthusiasts, collectors, and those interested in the captivating world of watches can look forward to regular blog updates from Ron Gordon Watch Repairs. By sharing insights, educational content, and expert advice, the blog aims to nurture a community of watch enthusiasts and empower them with the knowledge needed to make informed decisions about their cherished timepieces.
ABOUT RON GORDON WATCH REPAIR
Ron Gordon Watch Repair is conveniently located at 280 Madison Avenue at 40th Street in Midtown Manhattan, New York City. The company specializes in the service and repair of high quality, luxury, watches, both modern and vintage, and repairs watches for those who wear the very best brands. The expert and namesake is Ron Gordon.
Contact:
Ron Gordon Watch Repair
Tel. 212-896-8999
Web. https://www.rongordonwatches.com/