New York, NY – October 25, 2023. Ron Gordon Watch Repair, the New York City leader in TAG Heuer watch repair, is proud to announce a new post on the latest TAG Heuer announcement, that is on the TAG Heuer Carrera X Porsche Limited Edition.

The esteemed Swiss watchmaker has unveiled the TAG Heuer Carrera Chronosprint X Porsche, a timepiece that marks the celebration of the 60th anniversaries of two legendary icons—the TAG Heuer Carrera and the Porsche 911. As fervent watch enthusiasts and repair experts, we are elated about this monumental milestone that blends the worlds of fine watches and fast cars. Here is a summary of the news which can be found in full at https://www.rongordonwatches.com/2023/10/tag-heuer-chronosprint/.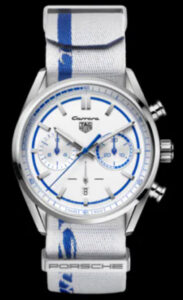 The TAG Heuer Carrera has always epitomized classic, timeless style, mirroring the flawless proportions, graceful curves, and spirited demeanor of the iconic Porsche 911. These two icons have endured the test of time, remaining as immortal as ever. The Carrera Chronosprint X Porsche is more than just a watch; it's a symbol of automotive history that you can wear on your wrist. What makes this timepiece even more captivating is its visual tribute to the Porsche dashboards of the 1970s. Subtle references to this era infuse a dynamic edge into the watch, making it the ultimate accessory for speed enthusiasts. It's not merely a watch; it's a passionate aesthetic tribute to a racing legend.
A Movement Inspired by Porsche's Engineering Excellence
At the heart of the TAG Heuer Carrera Chronosprint X Porsche lies the innovative TH20-08 movement. This remarkable movement mirrors the acceleration of the first Porsche 911, the Porsche 901, going from 0 to 100 km/h in just 9.1 seconds. The precision and technical prowess of this watch are a true testament to the unwavering dedication of both TAG Heuer and Porsche to their craft. TAG Heuer and Porsche are bound together by their shared passion for speed and prestige. This unique collaboration merges automotive excellence with horological mastery. It's not just a celebration of the past; it's a journey towards an exciting future where craftsmanship and performance seamlessly coexist, reflecting the luxury preferences of New Yorkers. Avant-garde design, daring innovation, and technical brilliance have always defined both TAG Heuer and Porsche. The TAG Heuer Carrera Chronosprint X Porsche encapsulates the essence of craftsmanship, effortlessly transferring the commitment to excellence from one icon to another. It's a watch that mirrors the uncompromising dedication to quality and innovation that both brands are renowned for.
GET YOUR TAG HEUER REPAIRED IN NEW YORK, NY
If you are a fortunate owner of the TAG Heuer Carrera Chronosprint X Porsche or any other TAG Heuer timepiece, it is imperative to ensure that it receives the best care possible. Ron Gordon Watch Repair, located in Midtown Manhattan, specializes in the repair and maintenance of luxury watches, including TAG Heuer, at https://www.rongordonwatches.com/tag-heuer/.
Our team of experienced watchmakers and technicians is wholeheartedly dedicated to preserving the performance and beauty of your watch. To maintain your TAG Heuer in impeccable condition, we recommend bringing it to us for a comprehensive inspection and any necessary repairs or servicing. Our commitment to excellence mirrors the craftsmanship of TAG Heuer and Porsche, making us the perfect choice for TAG Heuer watch repair in New York, NY.
ABOUT RON GORDON WATCH REPAIR
Ron Gordon Watch Repair is conveniently located at 280 Madison Avenue at 40th Street in Midtown Manhattan, New York City. The company specializes in the service and repair of high quality, luxury, watches, both modern and vintage, and repairs watches for those who wear the very best brands. The expert and namesake is Ron Gordon.
Contact:
Ron Gordon Watch Repair
Tel. 212-896-8999
Web. https://www.rongordonwatches.com/