Here at Ron Gordon Watch Repair in the heart of New York, we are thrilled at the latest announcement coming out of TAG Heuer. That is, the announcement of the TAG Heuer Carrera Chronosprint X Porsche. This exceptional timepiece is a celebration of the 60th anniversaries of two iconic legends, the TAG Heuer Carrera and the Porsche 911. As passionate watch enthusiasts and repair experts, we can't contain our excitement about this milestone in the history of two brands and two passions, fine watches and fast cars.
Timeless Style Meets Flawless Proportions
The TAG Heuer Carrera has always been synonymous with classic, timeless style, much like the legendary Porsche 911 with its flawless proportions, graceful curves, and spirited demeanor. Both of these icons have stood the test of time, remaining as immortal as ever. When you wear the Carrera Chronosprint x Porsche, you're not just donning a watch; you're wearing a piece of automotive history on your wrist.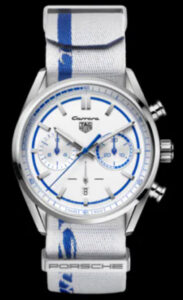 A Dynamic Homage to Speed
One of the most captivating aspects of this timepiece is its visual homage to the Porsche dashboards of the 1970s. These subtle references add a dynamic edge to the watch, making it the perfect accessory for speed enthusiasts. It's not just a watch; it's a passionate aesthetic tribute to a racing legend.
A Movement Inspired by Porsche's Engineering Excellence
The heart of the TAG Heuer Carrera Chronosprint x Porsche is the innovative TH20-08 movement. The Chronosprint movement, TH20-08, features all of the inspiring TH20-00 improvements, a unique chronograph that pays tribute to a car that broke convention. This remarkable movement mirrors the acceleration of the first Porsche 911, the Porsche 901, which could go from 0 to 100 km/h in a mere 9.1 seconds. The precision and technical prowess of this watch are a true testament to the dedication of both TAG Heuer and Porsche to their craft.
When Speed Meets Prestige
Let's talk about what brings these two brands together. TAG Heuer and Porsche are united by their shared passion for speed and prestige. These two legendary brands have come together to merge automotive excellence with horological mastery. This collaboration is not just about celebrating the past; it's about driving toward an exciting future where craftsmanship and performance go hand in hand. New Yorkers are often those who care about luxury – luxury watches, and luxury cars.
Craftsmanship Beyond Compare
Avant-garde design, daring innovation, and technical brilliance have always defined both TAG Heuer and Porsche. The TAG Heuer Carrera Chronosprint X Porsche embodies the essence of craftsmanship, seamlessly transferring the commitment to excellence from one icon to another. It's a watch that reflects the uncompromising dedication to quality and innovation that both brands are known for.
Get Your TAG Heuer Repaired in New York, NY
If you're lucky enough to own the TAG Heuer Carrera Chronosprint X Porsche or any other TAG Heuer timepiece, you'll want to ensure it receives the best care possible. At Ron Gordon Watch Repair in Midtown Manhattan, we specialize in the repair and maintenance of luxury watches, including TAG Heuer. Our experienced watchmakers and technicians are dedicated to preserving the performance and beauty of your watch.
To keep your TAG Heuer in impeccable condition, we recommend bringing it to us for a full inspection and any necessary repairs or servicing. Our commitment to excellence matches the craftsmanship of TAG Heuer and Porsche, making us the ideal choice for TAG Heuer watch repair in New York, NY.
In conclusion, the TAG Heuer Carrera Chronosprint x Porsche is a remarkable timepiece that pays homage to two iconic legends in the worlds of motorsports and watchmaking. If you're a proud owner of this watch or any TAG Heuer watch in need of repair, trust Ron Gordon Watch Repair to provide the expert care your timepiece deserves. Visit our shop in Midtown Manhattan to experience our dedication to preserving the precision and beauty of luxury watches.