April 9, 2013: An Historical Glimpse at Baume Mercier, and famed Swiss brands IWC and Jaeger LeCoultre.
As a premier Swiss Watch Repair shop in New York, NY, I cultivate not just a sense of style among lovers of watches but of history as well. Swiss watches not only tell time, they are "of time," of times long ago and far away, about the ingenuity of the human spirit to create a synergy of man and the eternal, of watches and times. Not to wax too poetic, but let's take a look at a famed Swiss Watch brand: Baume Mercier, part of Richemont (an international asset holding company). Leaving aside who owns what, let's focus on the history of Baume Mercier, and of its famed watch brands – Baume et Mercier, IWC, and Jaeger LeCoultre, all of which I repair in New York city.
Baume et Mercier (founded originally as Baume) is the seventh oldest brand to manufacture Swiss watches, founded in 1830 in the Swiss Jura region in the village of Les Bois. The impetus for the unification of Baume and Mercier came as the wristwatch gradually took over from the pocket watch as the masculine timepiece of choice. Baume witnessed the emergence of a new generation, and the young William Baume, a great visionary and an accomplished watchmaker, was eager to take advantage of the new opportunities afforded by the ebullient mood of the era. Having by then settled in Geneva, he decided to partner with a colorful figure named Tchereditchenko, who subsequently adopted his French mother's family name and became known as Paul Mercier.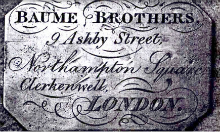 Born in Odessa to a Russian father, Paul Mercier was a passionate and refined individual, a dedicated art-lover who spoke seven languages and was endowed with exceptional business acumen. Despite their very different yet complementary temperaments, the two men, shared the same vision of contemporary watchmaking, and decided to join forces in 1918 to create Baume & Mercier. William Baume handled technical aspects, while Paul Mercier was in charge of design and the commercial side of the business. Together, they established a full-fledged watch manufacture in Geneva, making top-quality watches as well as movements that were exported to the United States. You can find more about the history of Baume et Mercier, at http://www.baume-et-mercier.com/en-us/history/freres-baume.
IWC has an interesting history, as well, with a reverse story: an American moving to Switzerland to combine the pioneering spirit of America with the crafstmanship of the Swiss. The founder, Florentine Ariosto Jones, meet up with Hein-rich Moser, an industrialist, to combine visions of a passionate devotion to the art of Swiss watch making on a small scale with the 19th century trend towards industrialism. IWC, of course, stands for 'International Watch Company,' a reflection of its synergistic roots as an American and Swiss joint venture. You can read more about the history of IWC, at http://www.iwc.com/en/history/.
Jaeger-LeCoultre was also founded in the 1830s, by Antoine LeCoultre, a man with a keen scientific interest in watch making. According to Wikipedia, in 1844, he measured the micrometre (µm) for the first time and created the world's most precise measuring instrument, the millionometer, capable of measuring to thousandths of a millimetre. In 1847, LeCoultre developed a system that eliminated the need for keys to rewind and set watches, using a push-piece that activated a lever to change from one function to another. Ironically among watch collectors, there is a great confusion today over names, as there was the use of just the name LeCoultre for some time; today's combination of IWC, Jaeger-LeCoultre, and Baume Mercier under three names but one corporate umbrella might mean that in the next eighty years, today's watches may have not just historical but collector value as the ebb and flow of corporate acquisitions and divestments combine and disentangle the great currents of Swiss watch history! You can learn more about the history, at http://www.jaeger-lecoultre.com/US/en/luxury-watches/history.html.
Watch History and Three Brands as One: Baume Mercier, IWC and Jaeger LeCoultre

Whatever your passion, whatever your brands, these watches combine an elegance that is natively Swiss with a spirit that is international, and a blending of the historical. One aspect of fine Swiss watches that I enjoy is not just repairing watches but sharing the history and spirit of Swiss watches. People wear watches like Baume Mercier, IWC and Jaeger LeCoultre not just as a sense of style, but also as a sense of history. These brands represent the collective achievement of many people, not just the men who started the companies, but also the watch makers (and repairers of watches, I might add) as well as the consumers who shared a passion for the very best in Swiss watch making.
~ Ron Gordon
About Ron Gordon Watch Repair

Ron Gordon Watch Repair is located at 280 Madison Ave, Ste. 510, New York, NY 10016. We provide watch repair services throughout New York City, Manhattan, Midtown Manhattan, Downtown and the boroughs of New York, NY. Read our Google Places, Insider Pages, and City Search Reviews, online.