"On Time" series of blog posts shares informative details on New York City watch repair, including the history and style of major Swiss brands such as Baume Mercier, IWC, and Jaeger LeCoultre
New York, NY. April 9, 2013. Ron Gordon Watch Repair, a Swiss Watch Repair service in New York, NY, is proud to announce their latest blog post as part of a new historical series, "on time." The "on time" series shares the history of major luxury watch brands and the passion for watches of Ron Gordon, proprietor of Ron Gordon Watch Repair. "Luxury watches like Baume Mercier, IWC, and Jaeger LeCoultre are not just objects to tell time, or objects of style, only," explained Ron Gordon, watch expert and store proprietor, "Rather they are objects of history. Many people do not know that brands such as Baume Mercier, IWC, and Jaeger LeCoultre are combined today in one company but were historically separate, nor that each has its own unique historical story. In my blog posts, I plan to share the historical details and grow awareness among my customers of the marvelous history that is Swiss watchmaking!"
For more information on Ron Gordon Watches, go to – * Ron Gordon Watch Repair
Three Brands in One Company: Baume et Mercier, IWC, and Jaeger LeCoultre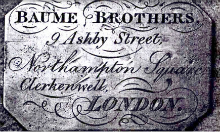 These three brands are unified today by the Richemont Company, which is an international asset holding firm. Each maintains its separate brand identity, however, and character. All share an historical origin in the first half of the 19th century, but with major differences. IWC, for example, is quite unusual as a Swiss brand, having a distinctive American character because of its founder, Florentine Ariosto Jones, who crossed the Atlantic to bring American industrialism to the Swiss watch making industry. A partnership with Hein-rich Moser, an industrialist, laid the groundwork for one of the great brands of Swiss watches, IWC (International Watch Company). The blog posts shares information on each brand, and has pointers to Internet resources by which lovers of these brands can learn more about the history on their wrists.
About Ron Gordon Watch Repair

Ron Gordon Watch Repair is conveniently located at 280 Madison Avenue at 40th Street in Midtown Manhattan, New York City. The company specializes in the service and repair of high quality, luxury, watches, both modern and vintage, and repairs watches for those who wear the very best brands. The expert and namesake is Ron Gordon.
Contact:
Ron Gordon Watch Repair
Tel. 212-896-8999
Web. https://www.rongordonwatches.com/