"On Time" series of blog posts shares informative details on New York City watch repair, including technical details of Swiss watch repair.
New York, NY. May 1, 2013. Ron Gordon Watch Repair, a Swiss Watch Repair service in New York, NY, is proud to announce their latest blog post as part of a new series, "on time." The "on time" series shares history and technology information on Swiss Watch repair with a special focus on New York, NY, as a center of watch fashion. "Swiss watches are the most popular luxury watches not just in New York City but in the world," explained Ron Gordon, watch expert and store proprietor, "My latest blog posts goes behind the scenes to identify and explain the Swiss Leverl Escapement as well as some competing solutions, namely from OMEGA."
For more information on Ron Gordon Watches, go to – * Ron Gordon Watch Repair
The Swiss Lever Escapement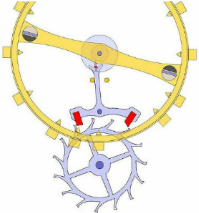 As is so often true in any industry, there are different solutions to this design challenge. All the watch companies Tag Heuer, Rolex, Omega, Longines, Tissot, Rado, Hamilton, Baume & Mericer, and LeCoultre use the Swiss lever escapement. The Swiss lever escapement comprises an escape wheel having teeth, and a lever having on the one hand an entry pallet and an exit pallet that engage alternately with the teeth of the escape wheel, and on the other hand a fork that engages periodically with an impulse pin on a roller mounted on the staff of a regulator balance wheel.
About Ron Gordon

Ron Gordon Watch Repair is conveniently located at 280 Madison Avenue at 40th Street in Midtown Manhattan, New York City. The company specializes in the service and repair of high quality, luxury, watches, both modern and vintage, and repairs watches for those who wear the very best brands. The expert and namesake is Ron Gordon.
Contact:
Ron Gordon Watch Repair
Tel. 212-896-8999
Web. https://www.rongordonwatches.com/