September 24, 2014
We have many customers who love Breitling watches, and customers who love Omega watches. We are a top New York city watch repair service, and of course we offer both Breitling repair and Omega repair. As someone who constantly 'looks under the hood,' I'd like to share some thoughts about the two watch brands and their relative qualities and configurations. Here's the concept –
While Omega created an elegant version of its tool watch, Breitling converted its elegant watch into a tool. Let's dive in!
| | |
| --- | --- |
| OMEGA | BREITLING |
| Case – Omega has a ceramic case which resists scratching and has a sapphire view back to see the beautifully appointed movement. | Case – Breitling's case is DLC-coated stainless-steel, this could scratch easily and the case back is opaque. |
| Operation – The crown and pushpieces are easy to operate on the Omega. | Operation – Greater force is needed to operate these push-pieces than to press Omega's buttons. |
| Design – Omega created an elegant version of its tool watch, this classic watch looks really cool in black; the dial is beautifully simple. | Design – The fashionable Chronomat is transformed into a military-style special-ops watch. |
| Wearing Comfort – The Omega is comparatively lightweight watch feels very comfortable on the wrist. | Wearing Comfort – The Breitling is very large and very weighty watch; the clasp presses somewhat uncomfortably against the inside of the wrist. |
| Movement – Omega's own 9300 caliber movement when the chronograph was switch on the and the watch was shifted from flat to hanging position the amplituded remained incredibly stable and the deviation rate of was 4 seconds and the average gain was 2.2 seconds. | Movement – Breitling's automatic in-house Caliber B04 when the chronograph was switched and the watch was shifted from flat to hanging position the strong amplitude declined , with a deviaton rate of 6 seconds and average daily gain of 3 seconds. |
Summary – Breitling vs. Omega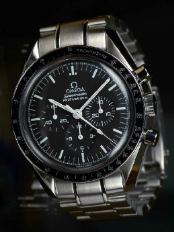 The above-points are my thoughts about the two brands. Many people love one brand, or the other. I'm becoming more partial to Omega watches over Breitling watches, but regardless, I can (and do) repair both brands. For those of you who are really, really into this conversation, let me share with you some interesting articles about both brands from WatchTime, my favorite publication on the luxury watch industry.
Stealth Pilots: 5 All-Black Breitling Watches – June 28, 2014 – 'Black-on-black watches have been a popular category for the last several years, and Breitling has created more than its share of these "stealth" timepieces, for its popular pilots' watch collections as well as other families, like its Superocean dive watches and even the automotive-inspired Breitling for Bentley models. Here are five all-black Breitling watches, including an all-new model in the Breitling Avenger collection.' (Click to read more).
7 Milestone Omega Watches, from 1892 to Today – April 20, 2014 – In its long history, Omega has contributed numerous important watches and innovations to the world of watchmaking. In this excerpt from our "Omega Milestones" E-Special, we chronicle seven of the 25 most important watches Omega has ever made. (Click to read more).
Ron Gordon Watch Repair

Ron Gordon Watch Repair in central NYC can look after your Breitling, Hamilton, Longines and Omega watches, and all of the other famous brands such as Jaeger-LeCoultre, and Vacheron Constantin, together with the products of modern companies like Hublot (founded in 1980) and Daniel Roth (1989). Ron Gordon Watch Repair will take care of your Swiss watch repair NYC requirements, whether they be something as simple as a replacement battery, a new strap, polishing out a scratch, or a complete overhaul. A quality Swiss watch deserves a quality repair.
About Ron Gordon Watch Repair

Ron Gordon Watch Repair is located at 280 Madison Ave, Ste. 510, New York, NY 10016. We provide watch repair services throughout New York City, Manhattan, Midtown Manhattan, Downtown and the boroughs of New York, NY. Read our Google Places, Insider Pages, and City Search Reviews, online.