November 12, 2014
Ron Gordon:Blog: Rolex Repair
Rolex watches are often seen as the apex of stylish watches, and for justifiable reasons. Nothing says success like a shiny, beautiful Rolex on your wrist, whether you are a man or a woman. Because New York is so much about style, many New Yorkers favor the Rolex brand. In fact, we get quite a few in the shop that are gifts or inherited, and some need repairs. If you own a Rolex, however, you need to maintain it on a regular basis. Just like a fine luxury car – a BMW or Mercedes, Lexus or Infiniti – you need to "take it into the shop" on a periodic basis for a tune up.
Here are some of the steps we take for NYC Rolex repair and tune-up. Our shop is conveniently located in Midtown, so many people can drop by on their lunch hour to drop off their "baby," and then pick it up later after a tune-up. If you are a Rolex watch lover, this is one of the best ways to love your watch. If you are giving one as a gift, or have inherited one, this is a great way to tune it up.
The Swiss are perfectionists. Their timepieces are matched by no-one else in the world. They produce some of the most expensive watches in the world today, many of which have the most amazing functions built into that 1½" disc that sits on your wrist. For example, the Girard Perregaux Opera Three Musical Hours watch ($420k to you) has a miniature musical box within its' case. The music can be played on demand and personalized to the owner's taste.
Steps to a Tune-up Repair of a Rolex Watch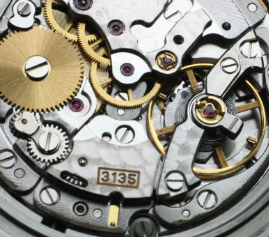 Step #1 Disassembly
First we remove the bracelet or strap from the Rolex watch case. Then the case is opened and the movement is taken out Next the case is then completely disassembled.
Step #2 Clean The Movement
Then we dismantled the movement, pegwood each jewel and then all the parts are ultrasonically cleaned in specific watch cleaning solutions.
Step #3 Replace Components as Necessary
After this, we closely inspect each specific component of the movement and replace any part that's worn or broken. Our thorough inspection identifies any Rolex components that need replacement, and if necessary, we replace those.
Step #4 Lubricate and Reassemble
Then we use special watch lubricants, and each functional component of the movement is precisely lubricated to reduce friction and prevent wear. This will keep your Rolex running correctly, whether it's at a Manhattan party or a New York ad agency.
Step #5 Timing Your Watch
The balance wheel is the heart of the watch movement. Its BPH is 27,250 (beats per hour). To keep its precision, we adjust the balance wheel and electronically test its timing accuracy. You want your Rolex to not only look good, but be accurate!
Step #6 Case Reassembly
The case is precisely reassembled and all the seals are change to make sure it is waterproofness. Even if you are not a swimmer, you don't want to let water in and damage your Rolex.
Step #7 Run Waterproof Tests
Waterproof Testing is a 3 step process

1. A vacuum test
2. A compression test
3. Finally a condensation test which will show the slightest leakage
Returning Your Watch to You
At that point, your Rolex has been thoroughly tested and repaired. It's ready to rest on your arm, and communicate to all of New York your stylish success!
Ron Gordon Watch Repair
Ron Gordon Watch Repair in central NYC can look after your Breitling, Hamilton, Longines and Omega watches, and all of the other famous brands such as Jaeger-LeCoultre, and Vacheron Constantin, together with the products of modern companies like Hublot (founded in 1980) and Daniel Roth (1989). Ron Gordon Watch Repair will take care of your Swiss watch repair NYC requirements, whether they be something as simple as a replacement battery, a new strap, polishing out a scratch, or a complete overhaul. A quality Swiss watch deserves a quality repair.
About Ron Gordon Watch Repair
Ron Gordon Watch Repair is located at 280 Madison Ave, Ste. 510, New York, NY 10016. We provide watch repair services throughout New York City, Manhattan, Midtown Manhattan, Downtown and the boroughs of New York, NY. Read our Google Places, Insider Pages, and City Search Reviews, online.