There is only one way to describe James Bond: Cool. Under pressure, in danger or romance, he is always cool. Omega watches and 007 have been on the edge of cool for over 50 years and it's happening again.
With Spectre, the latest 007 movie, Omega has released a limited edition Seamaster Aqua Terra 150M. New Yorkers love Omega watches and this collector's item is uber-cool. Below are seven interesting facts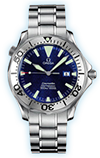 about the 007 Limited Edition watch. If you need your Omega serviced, Ron Gordon Watch Repair welcomes the opportunity to care for such a refined piece of craftsmanship.
Top 7 Brilliant Details about the Omega's James Bond SPECTRE Watch
001 – Pristine navy blue face has an interlocking image of the Bond family coat-of-arms. Bond's crest says "Orbis non Sufficit" which means, "The World is Not Enough." The crest is also found at the tip of the central second hand. Be ready to walk into any casino royal ready for high stakes and intrigue with this baby.
002 – For any Agent 007 fan, the spy silhouette from the barrel of a gun is iconic. The Omega Seamaster's Oscillating weight was crafted to resemble a gun barrel. Omega watches, especially after a professional watch repair, are on target and ready for action.
003 – The clear sapphire crystal backing allows you to view the intricate purity of the Omega's inner workings. If the casing view is not perfect, don't let the sky fall, take it to NYC's Ron Gordon watches for a cleaning.
004 – 15,007 is the magic number for the Seamaster Aqua Terra 150 M. It is noted on the face and refers to the magnetic field resistance. It is also how many of these Limited Edition beauties are available. Each watch has its own unique serial number engraved on the back along with the Spectre film logo.
005 – The self-winding movement with Co-Axial escapement commits to greater precision, stability and durability…like our favorite spy! To ensure accuracy, have Ron Gordon watch repair check the Omega winding mechanisms before your next secret assignment.
006 – Other than James Bond's steel blue eyes, the Omega's steel bracelet and casing compares to the steely-silver finish of his Aston Martin DB10. Lucky for you, this Omega is just as stylish and smooth to navigate.
007 – Omega's Seamaster Aqua Terra series is completely waterproof and the 150M is no exception. The sharp navy and steel details ensure you are dressed to kill for any adventure.
Ron Gordon Watch Repair in NYC
A dynamic state-of-the-art watch like Omega can travel anywhere James Bond finds himself, but it requires regular secret service. So stop by Ron Gordon Watch Repair in NYC for a proper polish. Then you will be ready to enjoy the new Spectre movie in style. Now that is cool!
Ron Gordon,
Ron Gordon Watch Repair of New York, NY
http://www.rongordanwatches.com