New York, NY. September 17, 2015.  Ron Gordon Watches, New York City's top watch repair service, announces a blog post about the new Omega SPECTRE timepiece.  The Seamaster Aqua Terra 150M is inspired by the popular James Bond franchise. Several details about the limited edition watch will make it a valuable treasure by Agent 007 enthusiasts throughout the world.
"James Bond has been sporting Omega watches in the 007 movies for many years," explained Ron Gordon, proprietor of the Ron Gordon Watch Repair. "I find it exciting that now, New Yorkers can purchase their very own Omega watch with all the style of the uber-cool special agent. I believe the new Seamaster Aqua Terra 150M is going to be a coveted collector's item for years to come."
To read the blog post about the special features of the new SPECTRA inspired watch, please visit https://www.rongordonwatches.com/?p=978. Interested parties with OMEGA watch repair needs are, of course, asked to contact Ron Gordon Watch Repair directly via the website.
Omega Watches and James Bond Have Much in Common: Durable, Stylish and Cool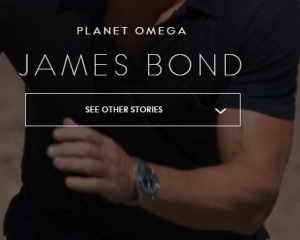 Remaining dressed for the moment and cool under pressure is normal for busy New Yorkers. A daily schedule is packed with adventures; Midtown Manhattan rush hour, trendy evening-casual gallery openings and weekend get-a-ways sailing by Martha's Vineyard.  The iconic spy, James Bond personifies a globetrotting cool in any environment. That is why Omega watches honors Mr. Bond with a memorable timepiece for the newest 007 film, SPECTRE.
The latest blog at Ron Gordon Watch Repair reviews several state-of-the-art features about the new Omega Seamaster Aqua Terra 150M. The navy face displays the Bond family coat-of-arms in a minimalist interlocking design. The back casing has an equally impressive look with a clear backing to view the skeletal bullet-case style famous to James Bond fans. Every elegant detail ensures the SPECTRA watch will be a popular collector's item for New York City's 007 spy enthusiasts.
About Ron Gordon
Ron Gordon Watch Repair is conveniently located at 280 Madison Avenue at 40th Street in Midtown Manhattan, New York City. The company specializes in the service and repair of high quality, luxury, watches, both modern and vintage, and repairs watches for those who wear the very best brands. The expert and namesake is Ron Gordon.
Contact:
Ron Gordon Watch Repair
Tel. 212-896-8999