The great thing about luxury watches is that you have so much to choose from. Take one of the more prominent brands, such as Rolex, and you have literally hundreds of models and thousands of watches to choose from, not just in the present day but historically as well. But, if you don't want to "go Rolex," there are other incredible brands to choose from each with their own style, their own technology, and own history. It's like browsing the Metropolitan Museum of Art: each room has its own genre, and its own collection. So it goes with watches. Let's stop for a moment, therefore, and admire some of the details about the Rado Brand. As someone known as the #1 place for Rado repair in NYC, I like to stop and share my passion for watches beyond repairing them into top performance. First of all, if you have some time in New York City, you can use their store locator to find Rado watches in New York.  They'll also send you out a hard copy of their catalog by mail, here.
Rado's Unique Commitment to Materials
Now, let's dive into some of the details about this amazing watch brand.  First, consider the watch materials. Rado has pioneered the use of high-tech ceramic, an extremely durable material. They consider this a perfect example of what they call "Modern Alchemy," the combination of beauty with technology.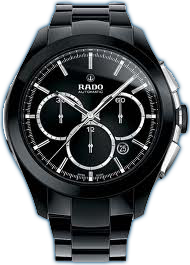 Their Ceramostm  material is a marriage of high tech ceramic and metal. It can be fashioned in a variety of colors, including platinum, gold and rose gold. It also gives comfort to the user, as it adjusts quickly to skin temperature.  You can learn more about it on the Rado site, here. Among other materials, the Rado V10K watch has a uniquely resistant high-tech diamond surface, giving it a hardness of 10,000 Vickers.  If you're into YouTube, you can watch an "unboxing" of a Rado V10K here.  Other materials in use in Rado watches include sapphire crystal, hardmetal, and diamonds. In summary, Rado is really second to none in the innovation of watch materials!
Rado History
Rado's history begins in 1917 in Lengnau, Switzerland, with the Schlup & Co watchmaking factory founded by the brothers Fritz, Ernst, and Werner in 1917.  The Rado brand began after World War II, when Rado had become one of the largest watch makers in the world. Its iconic "Golden Horse" collection made its debut in 1957. Subsequent to this, the "Green Horse" collection was marketed as a "water resistant" (something we are just now approaching with iPhones, as history repeats itself).  Then in the early 1960s, Rado really began to focus on materials, especially hardening and scratch resistant technologies.  In fact, high-tech ceramic became a distinguishing technology of Rado as a brand.
Rado and International Style
Rado is beloved by many stylish New Yorkers, but it's also found an international home among the watch cognoscenti. Hrithik Roshan, an Indian actor, for example, stated "My relationship with Rado goes back to 2011. I personally relate to brand Rado because I identify with the spirit it stands for. Rado is about 'uncompromising commitment to excellence'. It's about taking dreams to another level and having the courage, intelligence and determination to make them come true. For me a watch is an accessory that epitomizes my style. I like watches that are subtle yet elegant. My watches reflect my mood and I have enough Rado watches to match every mood and occasion. My favourite is the Rado HyperChrome collection."  Source: http://bit.ly/2bJ3jep.
If you have a Rado in New York and it needs repair, please contact me. I'm happy to inspect your watch and give you an estimate on the repairs needed.