Summer is movie time, and we're passionate about movies. James Bond is one of our favorites, not the least reason for which is that 007 loves watches. We thought we'd do a quick review and commentary on some of the more notable James Bond movies and the watches he wore in them. Note the historical evolution of which watch he wore in which movie; one wonders whether behind-the-scenes product placement was in the works, and if so, at which point in time. Product placement is a big theme across all of social media today, so yet another indication of how James Bond was ahead of his time.
Here's a timeline with some commentary: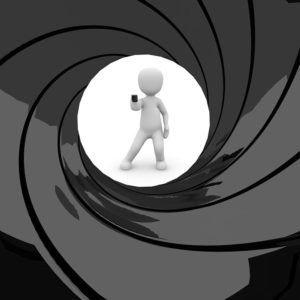 Rolex: Here are Movies in Which Bond (Primarily) Wears a Rolex –
1962
James Bond first appeared on the silver screen in 1962 and has remained there ever since, but the Bond character was born 10 years prior to 007's cinematic debut. Ian Fleming wrote Casino Royale, his first novel about the adventures of the charming MI6 agent, while on his honeymoon in 1952. Although Bond immediately showed extraordinarily good taste in automobiles and clothes, his wristwatch wasn't identified until Fleming's second novel, Live and Let Die (1954). Bond wears a Rolex in this book, which is not surprising, because Fleming himself wore a Rolex Explorer, Reference 1016, on an extensible Oyster riveted strap. Fleming's affection for Rolex is apparent in the first James Bond film, where Bond, played by Sean Connery, casually straps on a Rolex Submariner without a date display while hunting the nefarious Dr. No, for whom the movie is named. Reference 6358 has a leather strap here. Film buffs believe that this model was one of Sean Connery's personal possessions.
1963/1964
James Bond remained faithful to Rolex in his second cinematic adventure, From Russia with Love. The movie shows Connery wearing a Rolex Submariner, Reference 6538, which still shows just the time because Q, the famous master of innovative weaponry, hadn't yet equipped 007's watch with any other special capabilities.
Goldfinger
1965
James Bond wears two watches in Thunderball. He uses his Rolex Submariner to tell the time, but he relies on a modified Breitling Top Time when he needs a Geiger counter. This watch was rediscovered in 2013 at an English flea market, where the authentic prop from the classic flick changed hands for a paltry 25 pounds – and was soon afterwards auctioned for a five-figure sum.
1969
On Her Majesty's Secret Service featured a new leading man, but this film would be Australian actor George Lazenby's only stint as James Bond. As if to recompense him for his short-lived tenure, he has the good fortune in this film to wed the actress Diana Rigg, whom you may remember from the TV show The Avengers. In the movie Bond wore a Rolex Submariner (Ref. 5513) and a Rolex Chronograph (Ref. 6238).
1973/1974
Roger Moore's debut as James Bond, in Live and Let Die, and its follow-up, The Man with the Golden Gun, inaugurated a new era spiced not only with more humor, but also with a Rolex Submariner 5513 equipped with practical additional functions. For the first time, the agent's watch hosted gadgets added by Q. The watch could be triggered to serve as a circular saw, which comes in handy when handcuffs need to be removed. It also had a built-in magnet to deflect incoming bullets or, when necessary, help to suavely disrobe a lady. In Live and Let Die, Bond wore another watch in the opening sequence, one of the power-hungry Pulsar LED digital watches from Hamilton, which helped usher in the quartz revolution.
1985
A View to a Kill finds Bond on the Golden Gate Bridge, where both he and his nemesis Zorin wear Rolexes (Bond's is a Datejust). In other scenes, Bond wears three Seiko watches, including a Seiko Diver's 150m.
1989
In Dalton's second and final adventure as James Bond, License to Kill, Bond wears a Rolex Submariner.
SEIKO – Here are movies in which Bond sports a Seiko –
1977
East meets West with a bang in The Spy Who Loved Me, in which sparks fly between Bond and Major Anya Amasova. A Rolex GMT Master assures precise timekeeping, while a Seiko 0674 LC functions as a pager: a label-making printer inside the watch ejects strips of paper bearing important messages from the office spymaster M.
1979
Moonraker catapults 007 into outer space, where he's assisted by a Seiko M354 Memory Bank Calendar, which conceals an explosive secret that blasts the way clear for the agent and his appealing flightmate.
1981
Moore dives into the Aegean Sea for his fifth Bond adventure, For Your Eyes Only. Two Seiko watches join him: the Seiko 7549-7009, above, and the Seiko H357 Duo Display
1983
The risqué name of the next Bond film, Octopussy, caused a furor in England. In it, Moore's Bond, with a Seiko TV Watch on his wrist, turns his attention to a young lady who works as one of Q's assistants. The same year, Connery gave his final performance as Bond in Never Say Never Again. The identity of his watch in this movie remains a mystery.
1985
A View to a Kill finds Bond on the Golden Gate Bridge, where both he and his nemesis Zorin wear Rolexes (Bond's is a Datejust). In other scenes, Bond wears three Seiko watches, including a Seiko Diver's 150m.
TAG HEUER: Here are movies in which Bond wears a TAG Heuer –
1987
James Bond – The Living Daylights
TAG_Heuer Professional NIght Dive Ref 980.031
TAG Heuer Professional Night Dive, Ref. 980.031
OMEGA: Here are movies in which Bond wears an Omega –
1995
Pierce Brosnan wears a quartz version of the Omega Seamaster Professional 300M (Reference 2541.80) when he takes over as James Bond in GoldenEye.
James Bond – GoldenEye
TOmega Seamaster Professional 300M
Omega Seamaster Professional 300M, Ref. 2541.80
1997/1999/2002
An Omega Seamaster Professional (Reference 2531.80) is again the ticking costar in Tomorrow Never Dies.
The World Is Not Enough for this secret agent, so he escapes its confines aboard a rocket bound for outer space. In his battle against Elektra King and her cohorts, Bond relies on Reference 2561.80 as a radiant light source and as a rescue cable with a grappling hook.
Pierce Brosnan remains faithful to the Omega Seamaster in his fourth adventure. This chronometer saves 007's life in Die Another Day thanks to an explosive charge in its helium valve that can be detonated via the bezel. A powerful laser in the watch's crown serves Bond well in his battle against the evildoer Gustav Graves.
Omega Seamaster Ref. 2531.80
Omega Seamaster Professional, Ref. 2531.80
James Bond – Die Another Day
2006
James Bond loves variety, so when Daniel Craig debuts as everyone's favorite secret agent in a big-screen adaptation of Casino Royale, he alternately wears an Omega Seamaster Diver 300M (Ref. 2220.80) and a Seamaster Planet Ocean (Ref. 2900.50.91).
2008
It seems as though Bond needs an exceedingly watertight watch in Quantum of Solace. His Omega Seamaster Planet Ocean 600M (Reference 2201.50) reliably resists pressure at great depths.
Omega Seamaster Planet Ocean 600m Ref 220150
Omega Seamaster Planet Ocean 600m, Ref. 2201.50
2015
In the most recent Bond adventure, Spectre, Daniel Craig returned to the screen, this time wearing an Omega Seamaster 300 Spectre, which alludes to a predecessor from the 1960s. He also sported an Omega Seamaster Aqua Terra in the opening sequence. We cover that watch in detail here.
Omega Seamaster 300 Spectre
Omega Seamaster 300 Spectre Limited Edition
This article originally appeared in WatchTime magazine.
MOVIES in which the watch type is unknown or custom
1967
The phrase "You Only Live Twice" is perhaps more appropriate for James Bond than for anyone else. In the movie of that name, the dapper agent battles his archenemy, Ernst Stavro Blofeld. No one knows exactly which watch accompanied 007, but some aficionados suspect it was a golden Gruen, which probably came from Connery's private collection.
1971
A familiar face returned to the silver screen in Diamonds Are Forever, where Sean Connery, back as Bond, turns his attention not only to girls, but to girls' best friends. Bond fights the good fight mostly without a watch, although one does make a cameo appearance in one scene. Connoisseurs think it might be the same golden Gruen worn in You Only Live Twice.
2012
James Bond wears several watches in Skyfall, including one that was specially built for this film and which Christie's auctioned for nearly 200,000 euros in 2012. Bond's Seamaster Planet Ocean 600M has a titanium case, unlike the serially manufactured version, which is stainless steel. Both are fitted with Caliber 8500. For more information on the Skyfall watch, click here.
Summing Up: Bond and his Watches
We can make some observations. First, there is probably some degree of "product placement," especially in the more recent movies. Speculation that watch companies would "die" to have James Bond favor their watches is probably warranted. But the early movies, and in an earlier time, one is more doubtful. So the initial love of Rolex is probably genuine, don't you think? Second, Bond loves watches and he varies what he wears. There's no rule that says you have to be a "Seiko man" exclusively. You can love Seikos, Rolexes, Omegas, etc. As they used to say on cereal commercials, why not "collect them all?" Third, if you're in New York City and you need luxury watch repair, well, you know where to find us. We're know as the best place in New York for Rolex repair, but – like Bond – we're a bit agnostic, as we repair all of the major luxury Swiss brands like Tag Heuer or Omega, too. Call us if you have a "watch in need."