New York, NY – August 27, 2019. Ron Gordon Watch Repair, the New York City leader in OMEGA watch repair, is proud to announce a post to its blog commenting on the latest innovation from OMEGA, that is the OMEGA Seamaster Planet Ocean Ultra Deep Professional. The post draws the attention of watch lovers in New York City to OMEGA's storied history of water-resistant watch technology and how this latest announcement showcases the company's commitment to being both a watch for niche-specific needs (such as deep water diving) and for the more general consumer. Persons who love technology and love best-in-class watches will be excited to learn more about this new OMEGA watch.

"OMEGA is a leader in water-resistant  technology," explained Ron Gordon, proprietor of Ron Gordon Watch Repair. "This latest announcement by OMEGA will continue to build the brand as a leader in water resistance, and perhaps more importantly, as a leader in bringing this sort of technology to the mass market. The buzz around OMEGA is incredible these days as New Yorkers who love luxury watches add OMEGA watches to their collections. Even more importantly, as the leading OMEGA watch repair shop right here in Midtown Manhattan, we're seeing an uptick in persons with older or even vintage OMEGA watches who want inspections, tune-ups, and even repairs."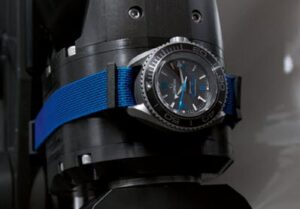 To read the new blog post, visit https://www.rongordonwatches.com/2019/08/omega-seamaster/.  The post explains the news from OMEGA with direct links to the referenced website. In that way, readers can educate themselves not only on this new announcement by OMEGA but also on the history of the brand when it comes to water resistance and deep sea diving. Secondarily, interested persons can visit the OMEGA watch repair page at https://www.rongordonwatches.com/omega-watch/.  The reality is that the new models of OMEGA watches, of course, will not be in need of immediate repair. However, many people will read the announcement, learn of OMEGA's storied history as a leader when it comes to water resistant watch technology, and then bring their older or even vintage OMEGA watch into Ron Gordon Watch Repair for an evaluation, tuna, or possible repair. After all, the purpose of the blog is to engage with the watch-loving community about Ron Gordon's passion for watches, and the ever evolving technology in the luxury watch industry.
OMEGA REPAIR IN NEW YORK CITY'S MIDTOWN

Located in Midtown Manhattan, Ron Gordon repair is a leader in luxury watch repair in New York City. Oftentimes, busy commuters come into Grand Central Station, and they look for a nearby watch repair shop. Of course, many of the watch repair shops that are near Grand Central Station or in Midtown focus on low-end watches. Ron Gordon Watch Repair is different. It focuses on the repair of so-called luxury or high-end watches, and among the most popular brands is the OMEGA brand. People come to OMEGA because of its combination of style and substance. On the one hand, OMEGA watches are stylish in comparison with perhaps the leading watch brands, Rolex. And, on the other hand, however, OMEGA watches are known for their functionality. OMEGA  watches have become a brand leader in sporting events, with a special focus on deep-sea diving. Therefore, for obvious reasons, OMEGA is the watch of choice among people who go scuba diving and other types of deep-sea diving. But even for people whose only diving experience is a swim at the local gymnasium, OMEGA watches are often the preferred choice because of how they combine style and substance. The latest blog post by Ron Gordon Watch Repair draws attention to the most recent installment in OMEGA's storied history as the leader in deep-sea diving watches. It builds excitement for the brand, and remind anyone who owns an OMEGA watch, that the worst tragedy is for a watch to sit in a drawer in a nonfunctional state. Anyone who owns an OMEGA watch and is interested in having an evaluation should reach out to Ron Gordon Watch Repair. Ron Gordon will go deep into the details of each and every OMEGA watch, and give a professional assessment of any required tuneups or repairs to the watch.
ABOUT RON GORDON WATCH REPAIR
Ron Gordon Watch Repair is conveniently located at 280 Madison Avenue at 40th Street in Midtown Manhattan, New York City. The company specializes in the service and repair of high quality, luxury, watches, both modern and vintage, and repairs watches for those who wear the very best brands. The expert and namesake is Ron Gordon.
Contact:
Ron Gordon Watch Repair
Tel. 212-896-8999
Web. https://www.rongordonwatches.com/